"American Horror Story" Is Giving Away An ACTUAL Role On Cult And You Could Be In It
2 August 2017, 17:24 | Updated: 6 November 2017, 10:26
Lunch with Evan Peters? Sign me UP.
Have you ever wanted to spend an entire day in the company of Evan Peters? Watch him work, watch him eat, watch him... breathe? Oh, you HAVE? Perfect. Because you're going to freak out when you hear what he's got lined up for you.
American Horror Story is giving you the chance to spend 24 hours with Evan and even score your own role on AHS: Cult. Yeah, seriously. You and one lucky friend will be flown all the way to LA (well, not ~all~ the way if you already live there) and you'll both be put up in a four star hotel in the city. Fingers crossed it's not Hotel Cortez. Or actually, fingers crossed that it IS Hotel Cortez - room 64, anyone?
You'll get to visit the closed-off and very secretive set of AHS: Cult and get to meet the entire cast. You'll get to watch some scenes being filmed and get to know what's really going on behind the scenes of your favourite show. Then you and your pal will get to have lunch with ACTUAL Evan Peters.
Let's do lunch, you + me. Seriously. Oh yeah, and win a walk-on role in American Horror Story. All to help CHLA. GO: https://t.co/ivK2yY8XTo pic.twitter.com/HNdQXFnx6F

— Evan Peters (@tweetsonurface) August 1, 2017
After all of that, you'll then get your moment to shine because the competition includes a legit walk on role in the show which means you'll be part of the American Horror Story world forever. You'll get to sit in hair and make up, listen for your cue and then head onto the soundstage and start chewing the scenery.
How do you win? Well, you have to donate to enter the competition which will benefit sick kids and support the medical teams at Children's Hospital LA. For every donation you make, you'll have your name added to a bunch of entries and the more you donate, the higher your chance of winning will be. For example, if you donate $10, you'll get 100 entries with your name on it. If you donate $100, you'll get 1000 entries. Depending on the size of your donation, you'll also win signed pictures of Lady Gaga as The Countess along with signed posters and scripts from all of the cast.
What are you waiting for tbh? Send us spoilers when you get on set, ok? Cool. Thanks.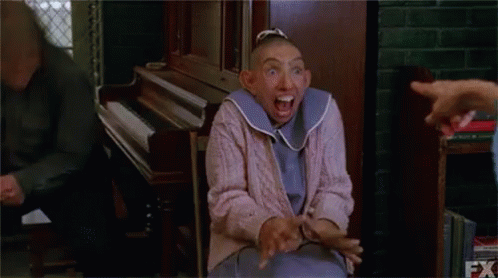 FX