Someone Might've Figured Out The Plot Twist On "AHS" And You're Gonna Scream
29 September 2016, 12:04 | Updated: 6 November 2017, 10:35
No seriously, give this guy an Emmy!
A few days ago, Ryan Murphy did a pretty revealing interview with Entertainment Weekly where he revealed that there would soon be a HUGE twist coming to the sixth, and most confusing, season of American Horror Story.
Since then, the internet has been working overtime to try and figure out what the bloody hell he meant. Theories have been drawn up and blood oaths have been sworn but this one theory has got us sweating.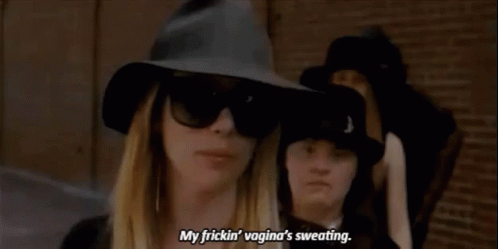 via giphy.com
Posted on the American Horror Story Reddit thread, user Ah_Salmon_Skin_Roll has scored the sleuth of the century by theorising that the first five episodes of the season will be "anthology" themed. Yep, each of the episodes is themed to a past season, linking the entire AHS world together in one thread before launching into a brand new theme in episode six. And it makes so much sense! You want the evidence? Here ya go...
"Chapter One": Murder House
via giphy.com
A couple who have just experienced a tragic pregnancy pack up their lives and move cross country into an old, old creepy AF house. Within 30 seconds, scary stuff starts to happen. They try to leave but thanks to their financial situation, they can't and they're forced to live there until further notice. Sound familiar?
"Chapter Two": Asylum
via giphy.com
We're introduced to two sadistic nurses (who also have a link to Murder House) and we find out that the house used to be a nursing home. We're also introduced to Dr Elias Cunningham, who had started an investigation into the goings on of the nursing home, only for him to be brought to the brink of madness by the weird goings on - starting to sound a liiiiittle bit like Lana Winters' story, huh?
"Chapter Three": Coven
via giphy.com
In the third episode of the show, Matt, Shelby and Lee are visited by none other than Leslie Jordan from Coven who shows up to the house as a Medium from New Orleans claiming to know information about Lee's missing daughter. Later in the episode, it is revealed that Lady Gaga's character is some sort of witch too.

So if this theory were to be true, we would need to see some sort of link to 'Freak Show' in Chapter Four, right?
Well, it's already been confirmed by Murphy that the Mott family from Freak Show will be featured in the show but whether it's happening is episode four, we don't know.
And as for Chapter Five aka Hotel? Could this be where the whole "children will play a big part this season" chatter could pop up? Maybe they move to a hotel? Liz Taylor on a cross country road trip? MATT. BOMER'S. JAWLINE?!
The big twist arrives in episode 6, where we will finally (hopefully) find out the TRUE theme of the sixth season.
My god, we think they've cracked it.
via giphy.com
*takes a deep breath* S-h-o-o-o-o-o-o-o-o-k.
___ ___ ___ ___ ___
Listen to this week's #PopBuzzPodcast featuring the flawless Dua Lipa right here on Soundcloud, or download from iTunes, AudioBoom or TuneIn to catch up with all the previous episodes!