A Fan Fave Might Be Returning To "American Horror Story" And You Are NOT Ready
28 September 2016, 11:52 | Updated: 6 November 2017, 10:35
This is gonna actually make you sweat.
There's still a ton of mystery surrounding the *actual* theme, storylines and real character identities on the sixth season of American Horror Story and we can't keep up with it all. From the shocking twist that's gonna drop in episode 6 to Evan Peters' secret character, our minds are literally going into overdrive.
And now we've just uncovered a pretty earth-shattering piece of casting news that might turn Roanoke into the best season of all time. The top level sleuth, which was brought to our attention by Hello Giggles, is gonna make you sweat actual buckets. Olympic sized swimming pools, maybe.
You ready? (You're not ready... Trust us. You're not ready for this.)
via giphy.com


(Sorry, it's not Jessica Lange...)
According to the IMDb page for the ninth episode of the season, there's a credit for a stunt double who seems to be standing in for none other than... fan fave Taissa Farmiga!
via IMDB

Yep, your girl Violet Harmon might be finally on her way back into our lives after a two season absence. *sweats*
The last time we saw her, she was out witchin' on the streets of New Orleans with Emma Roberts, Jamie Brewer and Gabourey Sidibe on Coven. And before that, serving ghost couple goals with Evan Peters on Murder House.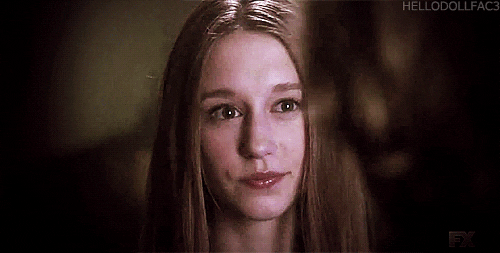 via giphy.com

We. Are. SHOOK! Although, we're sort of inclined to not believe it until we see it but the casting of a stunt double assigned to her is enough proof for us. Only one thing left to do... try and stay alive till episode nine!
*prays for another Taissa/Evan reunion*

via giphy.com