OMFG, Does This Promo Mean "AHS" And "Scream Queens" Might Be Linked This Season?
9 September 2016, 12:49 | Updated: 6 November 2017, 10:33
When will this madness end?
Oh no, we've got another suspicious plot twist brewing in the world of "American Horror Story" and it might have something to do with Ryan Murphy's other brain child. Brace yourselves for potential cross pollination of AHS and Scream Queens. You've been warned.
Season two of "SQ" is already shaping up to be a brighter, kitschier version of "Asylum" if the promos and trailers have been anything to go by. Sadly, no sadistic nuns in sight. Yet.

But in an earlier promo for "Scream Queens", we all noticed that there was a patient who had been sporting a pretty iconic looking head scar... in the shape of a question mark.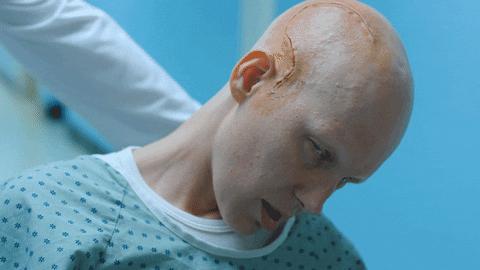 via giphy.com
Look familiar?
#ScreamQueens vs. #AHS6 pic.twitter.com/OX7KKJbjOC

— AHS NEWS (@ahsnews_feed) August 12, 2016
It probably meant as an intentional shout out to the upcoming sixth season of AHS but still suspicious none the less. Is it the same patient?! It wouldn't be a stretch, considering Ryan Murphy had considered making "Scream Queens" a spin off of "AHS: Coven". It's only a matter of time before a crossover happens, right?
There also happens to be this little nugget of similarity...
But we're just putting that one down to the AHS creative team running out of ideas for their 524 teaser trailers. It happens to the best of us.
FAV > Scream Queens
RT > American Horror Story 6 pic.twitter.com/PxIwSNuMFk

— R A F A (@Skirlow) August 22, 2016
But the real kicker was spotted by HelloGiggles, who noticed the official FX Latin America twitter account tweet out a brand new promo - set in a hospital with the caption, "A hospital may be darker than you think."
Un hospital puede ser más tenebroso de lo que crees.#AHSenFX, nueva temporada. Jueves 15, 22.00 / 23.00 VEN. pic.twitter.com/a8zzVJzlIV

— FX (@CanalFX_la) September 7, 2016
GURL WHAT?! That has to be fake. Where did you find this? Who gave it to you? What does this mean? Are you sure you're promoting the right TV show? Is this confirmation that the Chanels are coming to destroy everything we hold dear?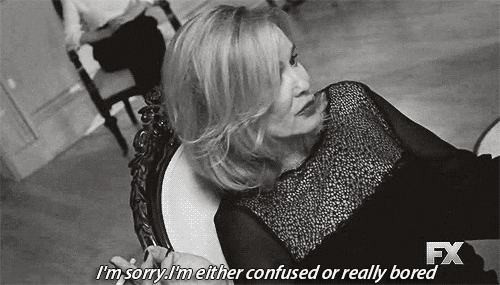 via giphy.com
Send us your theories, we wanna hear them. There's five days to go and we've still so far away from actually getting to the bottom of this mess. *sigh*