There's A "Leaked" American Horror Story Cast List And It'll Make You Scream
3 August 2016, 14:59 | Updated: 6 November 2017, 10:33
Is this even real? It can't be! What does this mean? WHO CAN WE TRUST?
Soooo, the tea has been spilled on the potential theme for American Horror Story Season 6 but there's now a suspicious looking "leaked" cast list that has been circulating on the internet and we're literally salivating for more info.
AHS leaked cast lists have been pretty solid in the past (there was that one from Freak Show's Comic Con panel that absolutely nailed it) so we thought we'd get to the bottom of this latest rumour. It's sent a lot of people into a bit of a tizzy - namely because of *one* very sultry alt music Queen.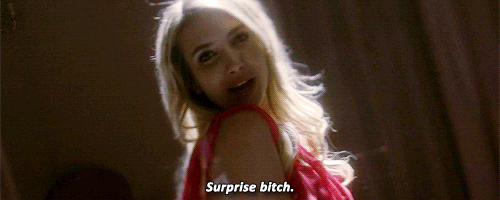 via giphy.com
LANA?! HUGE IF TRUE.
RUMORED cast list and character names for #AHS6 pic.twitter.com/u2kMDXzqb1

— AmericanHorrorStory (@HotelAHS) July 29, 2016
The list is already being stamped as a hoax by many on Twitter but let's see just how much water it might actually hold. The final set list might not be far off this exact one after all and we just can't stop throwing these AHS theories around!
The list of actors that have explicitly confirmed their involvement in the heavily anticipated American Horror Story: Hot Mess are as follows; Evan Peters, Angela Basset, Lady Gaga, Cheyenne Jackson, Denis O'Hare, Matt Bomer and Leslie Jordan.
Sarah Paulson is still yet to be confirmed but we think we can all agree that she will be starring in a main role that makes everyone else look like trash. Same with Kathy Bates. That's half the list so we're off to a good start!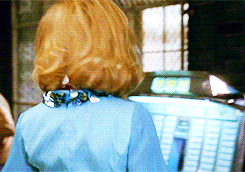 via giphy.com
However, previous cast members such as Connie Britton, Jamie Brewer and Emma Roberts are not yet confirmed but have long been teased to return to the franchise.
As for Chaz Bono? PopWrapped seem to have confirmed his involvement and he's also Insta'd a few 'on set' actor injuries within the past two weeks so... make of that what you will. *sleuth emoji*
There's also the small matter of Cuba Gooding Jr. Actress Annbell Osorio (who is also not on the list) tagged both Kathy Bates and Cuba in her Insta thanking them for inspiration on set. So if Cuba IS involved, we may as well throw this list away.
Annabell Osorio confirmed on her instagram that is on season 6. #AHS6 pic.twitter.com/AzTKplXe0c

— AHS LEAKS (@ahsleak) August 1, 2016
There's another MASSIVE red flag too - have you spotted it yet? Donovan Warren, from Hotel will not be played by Matt Bomer but by an actor who we literally cannot track down on the internet. He could be an unknown child actor but that would also require Kathy Bates' and Leslie Jordan's characters to 'age down' too. So we're totally not buying that one.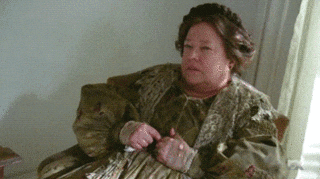 via giphy.com
As for Lana? We're not holding our breath but 'Gods and Monsters' WAS featured in Freak Show so there's a strong possibility she'd appear for a scene or two as a guest. *prays for our very own Lana Banana*
Final conclusion? There's no way this is real but it's pretty damn close. Who do you think will make the final cast? Throw your theories in the comments!
via giphy.com