Ryan Murphy Just Revealed A Huge Twist On "AHS" And You're Gonna Hate It
23 September 2016, 11:55 | Updated: 6 November 2017, 10:35
What did we do to deserve this kind of torture?
Question one: Has "AHS: Roanoke" actually started to make any sense to you yet? Question two: Do you even trust Ryan Murphy anymore?
Whatever your answers, you're gonna hate his latest interview with Entertainment Weekly because he and co-creator Brad Falchuk just destroyed everything you thought you knew and loved about the latest season of American Horror Story. Yep, it turns out that the game of misdirects is not over and EVERYTHING will change half way through the season. Completely. Totally. Flipped. Upside down. Inside out.
"Starting in Episode 6, the show has a huge turn and the thing that you think you're watching is not what you're watching." said Murphy, dangling the real theme in front of our faces.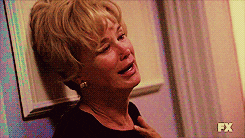 via giphy.com
He continued adding that the final five episodes of the season are VERY different from the first. Co-creator Brad Falchuk then chimed in with an even more devastating bombshell. "Even though the subject matter has gotten out, it's irrelevant because nobody gets what we're doing. No matter what you think it is, it's not that. Then, episode 6 comes and you're like, "Wait! What happened?'"
So, what you guys are saying is... everything we're getting hyped about right now has NOTHING to do with the conclusion of the show? Everything is a basically one big fat lie? What did we do to deserve this?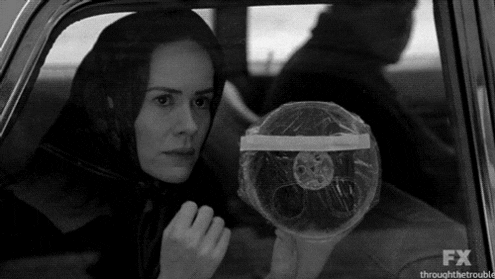 via giphy.com
Do you think he stopped there? No, of course he didn't. Murphy continued, "It's a hat on a hat on a hat on a hat that we've had to protect." (American Horror Story: Inception, amirite?!)
And to add even more fuel to the flames that are currently burning down everything we thought we knew, Falchuk just went and dropped this too:
"It's like [episodes] 1-5, 6-9, and 10 is its own thing."
via giphy.com
WHAT?! The entire vibe will switch in episode 6? And then again in episode 10 - the final episode of the season? Cancel your theories, cancel your holiday plans, cancel your life... we know truly nothing and our fate is resting in the hands of Murphy and Falchuk.
So what do you think is gonna happen? Is "My Roanoke Story" actually one of Billie Dean Howard's strategic staged TV shows? A hallucination from the Asylum?
*whispers* What if Jessica Lange comes back?