Evan Peters Is Officially Going Back To The Freak Show In "American Horror Story" Season 7
13 January 2017, 13:05 | Updated: 6 November 2017, 10:37
Buckle up kids, we might be going back to the Freak Show.
It's about that time again. Christmas has been and gone, the new year is upon us and the cogs in Ryan Murphy's head have started turning once more.
Yesterday, (Jan 12.) Murphy took to the panel at the Television Critics Association (TCAs) to discuss American Horror Story, American Crime Story and his brand new show Feud. He revealed a few juicy nuggets of information, like the fact that Lady Gaga's heavy 2017 schedule might not allow for her to be part of either AHS or ACS in the near future. *sobs*
But what really made our ears prick up was when he starting discussed the ~theme~ for season seven of our favourite TV show.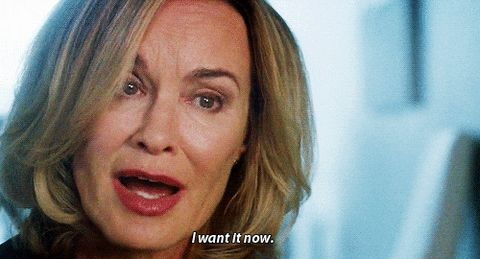 FX / via giphy.com
Apparently, only THREE people in the world know about the theme for the seven season of American Horror Story so far. Sarah Paulson is one of them. (Side note: Do you think if we sent her a bottle of Tequila she'd invite us over for a drink and spill all the secrets?)
Murphy remained pretty tight lipped on the subject matter but he did let one thing slip; he revealed that the next season would be a "modern-day story". On top of that, back in October 2016 he also revealed that the focus of S7 would be on the wider context surrounding Freak Show saying, "Next year, we will be going back to some Freak Show characters, deeper histories and mythologies. So we're sort of still exploring season 4 in season 7."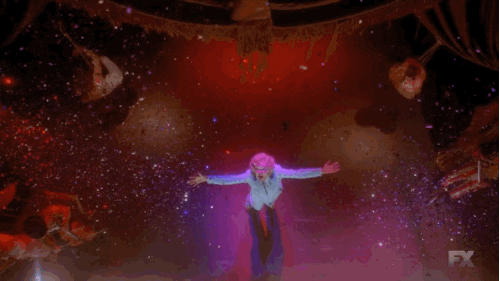 FX / via giphy.com
He also revealed that two actors are already confirmed and on board for the seventh instalment of the anthology series. Queen Sarah Paulson and King Evan Peters are officially back for another round of murderous antics. YAAAASSSSS!
But let's just think about that for a sec, Freak Show was set in 1952 - that's now over 60 years ago. Will Murphy revisit Jimmy Darling and Bette and Dot or will they be playing completely new characters? We mean, they'd be like 80 but Paulson pulled it off as Lana Winters, right? Oh god, we're sweating already.
FX / via giphy.com
As for anymore info on the seventh season? "It will be shrouded in secrecy." (No sh*t...) But it looks like they're not going to put us through the complete and utter hell-scape of the promo for Season 6 again. When asked about the secrecy plan, Murphy said "Last year was successful. I don't know if we'll do it again. I think maybe we'll release some of it earlier than we did." (Thank God.)
Could this finally be the year we get to some Area 51 alien action on AHS? *crosses crab hands*
FX / via giphy.com
Oh, and in case you missed it, AHS has been renewed all the way through to Season 9.