American Murder: Where is Chris Watts now? What happened to Nichol Kessinger?
1 October 2020, 19:30 | Updated: 1 October 2020, 21:09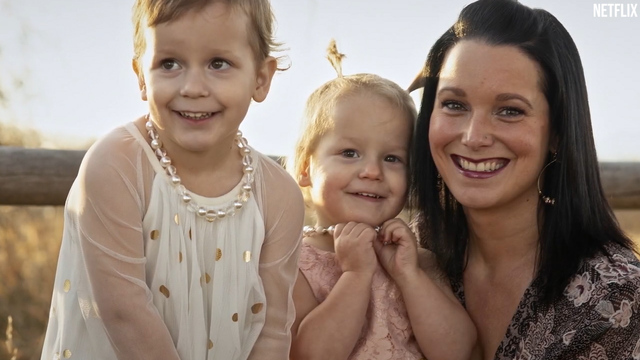 The official American Murder: The Family Next Door trailer
Netflix viewers are calling the documentary about Shanann Watts' murder absolutely "horrifying".
Netflix just released their latest true crime documentary and viewers are calling it one of the most harrowing things they've seen all year.
American Murder: The Family Next Door tells of the murder of Shanann Watts and her three children, Bella, Celeste and unborn son Nico Lee, at the hands of Chris Watts in 2018.
Shanann and her two daughters were found to be missing the day after she had returned from a trip. Concerns were raised after a friend had noticed that she wasn't replying to texts and had missed a doctor's appointment earlier that morning.
Suspicions were then raised about her husband Chris, which then led to an investigation, and a series of absolutely horrifying confessions.
The documentary is shown through raw police body cam footage, video footage that Shanann had posted on Facebook and footage from the police investigation. The chilling film has left viewers absolutely horrified.
WARNING: This article contains details that some may find distressing.
Here's what happened to Chris Watts since he was jailed, and where Nichol Kessinger is now...
Why did Chris Watts kill his wife and children?
It's not explicitly known why Chris killed Shanann and their daughters.
After a failed polygraph test, three days of interrogation, and an initial false claim from Chris that Shanann had killed Bella and Cece, Chris confessed to killing her.
Following his conviction, Chris said that he had a fight with Shanann on the night of her murder, after telling her that he wanted a divorce and that he didn't love her. He alleged that Shanann threatened to take the children away.
After killing her, he then took Shanann and the girls (who were still alive at the time) out to the oil storage where he worked, buried Shanann's body and put the two children into an oil tank.
Where is Chris Watts now?
Chris was convicted and sentenced to life in prison without the possibility of parole. He's currently serving his sentence in maximum security prison, Dodge Correctional Institution, in Wisconsin.
He pled guilty on nine counts, including murder in the first degree of Shanann, Bella and Cece as well as the unlawful termination of pregnancy. Shanann was 15 weeks pregnant at the time of her death.
Due to his plea, he was spared the death penalty. Shanann's family also requested that he was not given the death penalty because they did not want any more deaths.
Where is Nichol Kessinger now?
Nichol Kessinger was the woman who Chris was having an affair with. She worked with Chris and, while Shanann was away, struck up a romantic relationship with him. She says she knew about his daughters, but had no idea that he had not yet separated from his wife, nor that Shanann was pregnant. She said she would have ended the relationship had she known.
When Nichol handed her phone over to police to help with the investigation, they found that Chris was arranging future plans with her shortly after committing the murders.
In a police interview, she said she had no idea about any plans Chris had to murder his family.
Following the murders, Nichol was put under intense scrutiny by the public. She is no longer on any forms of social media, and her whereabouts are not known. It's believed that she is currently in the Witness Protection Programme, in exchange for the amount of information she gave the police about Chris.
People are calling American Murder one of the most horrifying true crime documentaries of the year.
THE CAR RIDE IS THE MOST DISTURBING PART!!! He drove his kids to the murder site. Those babies were in a car ride with their OWN FATHER and he was driving them to kll them. Killed them. Dumped them. UNENROLLED THEM FROM SCHOOL. PLANS FUTURE WITH GF. A monster #AmericanMurder

— ᴘʀᴏᴅᴜᴄᴇᴅ ʙʏ ¹³¹ 🦂 (@dojabins) September 30, 2020
The scariest part of it all and the very first red flag was the utter and complete lack of empathy. In his face. In his eyes. In the entire manner. Not just about the murder. Those short microexpressions when he interacted with his kids, other people. #AmericanMurder

— Samira Hacko (@Semirahmis) September 30, 2020
I still get chills when I see the body cam footage of Chris Watts putting on his huge act— hours after he had murdered his wife, 2 daughters, and unborn baby. It doesn't matter how many times I see it. Still freaks me the hell out. He is truly evil. Soulless. #AmericanMurder

— leebz (@wittywhiddy) September 30, 2020