Anne Hathaway says Devil Wears Prada sequel won't happen but a new cast could reboot it
3 November 2022, 16:27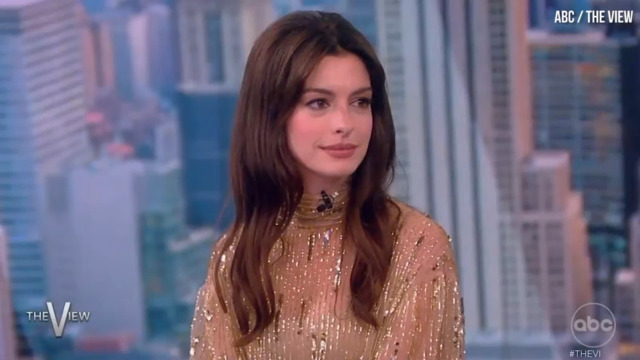 Anne Hathaway says a Devil Wears Prada sequel will never happen
"They could relaunch it, get some new people and do it. Do you think they'd let us do that?"
It's been 16 years since Anne Hathaway, Emily Blunt and Meryl Streep blessed us with The Devil Wears Prada.
But despite there being several more books in Lauren Weisberger's The Devil Wears Prada novel series, a follow-up to the 2006 movie (that was based on the first book) has never materialised.
The question about whether or not there'll ever be another film has popped up countless times over the years, though. And now Anne Hathaway herself is addressing the possibility of a return to Runway magazine's hallowed halls. The answer? Probably no. But also like, what if? And if not, what if they just relaunched it with a new cast?
READ MORE: QUIZ: How well do you remember The Devil Wears Prada?
Anne stopped by The View earlier this week (Nov 2) and she discussed the possibility of a sequel to the film. Sadly, the idea of a follow-up happening now is pretty much off the table, at least as far as Anne is concerned.
"I don't know if there can be," she said when asked if she would reprise her role as Andy Sachs. "I just think that movie was in a different era. Now everything has gone so digital, and that movie centred around the concept of producing a physical thing, and it's just very different now."
Anne did, however, admit that it is tempting to consider what kind of chaotic requests editor-in-chief Miranda Priestly could throw at Andy and Emily these days.
"It is tempting to think about Andy and Emily needing to get Miranda her coffee and she's somewhere in Europe and then along the way they pick up Stanley Tucci in Italy, who's at a restaurant," she continued. "It's tempting, but I don't think it's going to happen."
Anne then quipped: "They could relaunch it, get some new people and do it. Do you think they'd let us do that?"
A relaunch? Of The Devil Wears Prada? Without that iconic original cast? NEVER!
In other Anne Hathaway iconic movie sequel news, the Oscar-winning actress is on board for another Princess Diaries movie.
Speaking to ET Online about a third film, Anne said: "I would more than entertain it, I'm pulling for it. If there's any way to get Julie Andrews involved, I think we would make it work. We would go to where she was and put a green screen behind her and just make it happen."
And we would watch!
READ MORE: Anne Hathaway cast in new Harry Styles fanfiction movie The Idea of You
Drag Race UK's Le Fil Reveals RuPaul's Controversial Snatch Game Idea | Drag Race Yearbook