People Are Slut Shaming Ariel Winter Again And She's Got A "Cheeky" Response
18 August 2016, 13:36 | Updated: 8 May 2017, 17:09
The Modern Family star is sooo done with people talking about her assets.
Chances are that you're familiar with Ariel Winter.
The 18 year old has starred on the award winning family comedy, Modern Family, for years now and has definitely endured the rocky experience of growing up on television.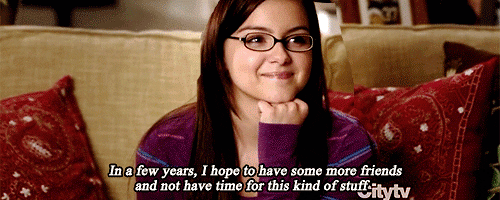 No matter what she does, it seems that people can't help but comment on the fact that Ariel is unafraid to wear outfits that show off her assets.
She's received a lot of heat over the last few months about the fact that she stars on a family show but is pretty open and honest about her body. She opened up about her June 2015 breast reduction surgery, and she's, generally, not in the business of hiding her body away.

Recently she spoke to Entertainment Tonight about this fact, saying, "Everybody is so hyped up on the fact that I post photos where my butt's out. It's a butt. Everyone has a butt."
"I'm not going to fight with someone on my Instagram that tells me they don't like my outfit or I should put my butt away," she explained. "I'm sorry you think I should put my butt away, but just unfollow me."

Ariel is right. Everyone does have a butt and people's fixation on her butt, because she's on a family show, is also pretty disappointing.
breaking news: ariel winter wears swimsuit and shorts to a pool party !!

also: man shot during during protest..

back to ariel's shorts!!!

— Sarah Gilman (@sarahbgilman) August 15, 2016

When people comment on her butt or the fact that she posts "racy" pictures, it's another way of policing women's bodies. Why should anyone take offense to the fact that Ariel is wearing shorts in warm weather or a bathing suit at a pool party? "It's like, 'Let me live! I'm enjoying my life, you're enjoying your life, you should be posting your butt if you like it, too!'" Ariel told Entertainment Tonight.
Even the comments on Ariel's Instagram photos are full of people going back and forth about different aspects of her body. No wonder Ariel is fed up.
She's even poked fun at the fact that her butt always seems to find its way at the other end of a camera lens.
Guys, next time you feel like commenting on a body that isn't yours, please remember that you have a butt too and, instead of being a hater, you could just focus on your own butt. #FocusOnYourOwnButt2k16