Barb From Stranger Things Has Risen From The Dead...In Riverdale
9 February 2017, 17:21 | Updated: 7 November 2017, 16:54
The second coming is here.
Just when you thought Barb was dead and gone, she's only gone and risen from the dead. Is there no end to that woman's talents?
Obviously we're joking but we're happy to hear that the actress that plays Barb in Stranger Things, Shannon Purser, has now landed herself a role in Riverdale. Shannon tweeted the happy news on her Twitter this morning (9 Feb).
Ready to meet Ethel Muggs? Check out Riverdale tomorrow night!!! pic.twitter.com/7lk12pDqFq

— Shannon Purser (@shannonpurser) February 9, 2017

Doesn't she look pretty? We bet Shannon is glad to be rid of those big spectales and the frumpy clothing, although they did look hella comfy tbh.
We've become a little obsessed with Riverdale in recent weeks. For those not in the loop, the show, starring woke bae Cole Sprouse, is a mystery series based on the Archie comic series of the same name. Set in the sleepy suburb of Riverdale, the school quarter back Jason Blossom dies in mysterious circumstances and in the fallout of his death a web of secrets and affairs starts to come undone. It's pure drama and it's worth it for KJ Apa's abs alone.
So where does Barb Ethel Muggs fit in all this? Well, we have no fucking idea, tbh. We're just please Shannon is back on our screens. We think she's a fantastic actress and we can't to see what she does on the show. Let's hope she doesn't get murdered again by the Demogorgon, eh?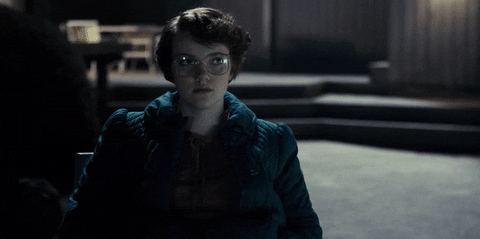 Stranger Things/Netflix