Who is Midge in the Barbie movie? The true story behind the controversial pregnant Barbie doll
5 April 2023, 13:15 | Updated: 5 April 2023, 13:18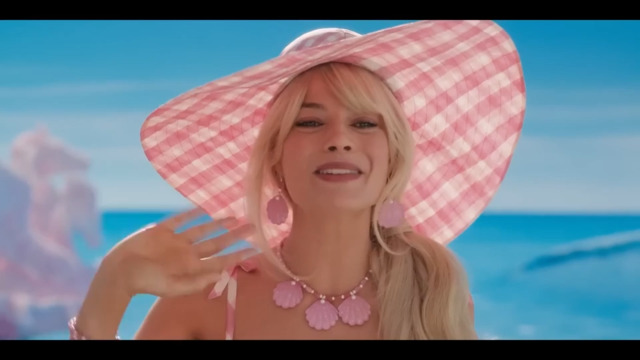 Watch the first full-length Barbie trailer
Emerald Fennell plays the role of Midge in the new Barbie movie.
New Barbie posters have dropped and fans are losing it over the fact that discontinued pregnant doll Midge is in the movie.
Ever since Barbie was announced, plot details for the highly anticipated movie have been kept under-wraps. Even now with a full-length trailer, it's unclear what will happen in the film but we know that Margot Robbie is playing the titular Barbie and stars like Issa Rae, Hari Nef and Dua Lipa are playing the roles of President Barbie, Doctor Barbie and Mermaid Barbie.
READ MORE: Barbie meme generator: How to make your own Barbie selfie poster
Yesterday (Apr 4), the official Barbie posters were unveiled, and they include Emerald Fennell as Midge. For those of you who don't know, Midge was a real Barbie doll that sparked a lot of controversy and the true story behind her is wild.
What happened to Midge? Was she real?
Mattel first released a Midge Barbie doll in 1963. Midge, full name Margaret Hadley Sherwood, was originally introduced as Barbie's Irish-American best friend. Following criticism that Barbie looked too adult, Midge was given softer more child-like features and there were blonde, brunette and and red-headed versions of Midge. Midge was discontinued in 1967.
Mattel then brought back Midge in 1988 first as California Dream Midge and later variations such as Cool Times Midge, All Stars Midge and Wedding Day Midge joined her. However, it's the 2003 version of Midge that left a lasting impression on Barbie fans and had to be discontinued after she sparked a backlash from parents of Barbie customers.
In 2003, Barbie launched a Happy Family line in which Midge and Allan were presented as a family with three of their own children including Baby Nikki. Midge was sold pregnant with baby Nikki. Not only that but Nikki came inside of Midge's magnetic, removable womb.
Pregnant Midge came in both white and Black variations and she was made available to buy separately from Allan.
Midge received numerous complaints from adults who said that she was inappropriate for children and encouraged teen pregnancy. They also took issue with the fact that Midge initially didn't have a wedding ring. The complaints were so widespread that Walmart removed the Happy Family line from their shelves.
Naturally, fans of Midge are living for the fact that Midge has been included in the Barbie movie film and is very clearly pregnant. One fan tweeted: "Living for the fact that they included the banned Midge doll... they really did their Barbie research and are having fun with it, it's so campy I love it".
Another wrote: "I am ECSTATIC that pregnant Midge is part of the film."
if you dont know essentially midge was introduced as a tame barbie because barbie was too "sexual" and honestly they kind of just made a tradwife character which is why there are pregnancy midge dolls pic.twitter.com/U1tQZNq8Aj

— plazy but halal ☾*✲⋆. (@plazynoodles) April 4, 2023
midge was introduced in 1963, which was THIS midge, not happily family midge. it's passed around that she was intended to deflecr criticisms barbie looked too "mature" but her headmold is dated the same year as barbie's, so likely she would have been made either way https://t.co/ybQEJxqHag pic.twitter.com/r8vwp6I7oy

— Cammy 🧚‍♂️✨️ (@sweetdreamzkumi) April 5, 2023
I am ECSTATIC that pregnant Midge is part of the film. when the "Happy Family" Barbie line was released in 2003, Midge was sold "pregnant" with a tiny baby doll in her magnetic removable womb, but she was pulled from shelves as parents believed it promoted teen pregnancy. pic.twitter.com/5Gu9celOot

— Holiday Barbie (@kdantoinette) April 4, 2023
Emerald Fennell as Midge | 2003 Midge and Baby
"This toy was highly disliked by parents and even banned from Walmart, a store in America. However, it had a good reputation from children, espically those whose mother was expecting a child." pic.twitter.com/6IXWWNlp7A

— duda (@intomargot) April 4, 2023
As well as Emerald Fennel as Midge, Michael Cera will be playing the role of Alan in the film. We have no choice but to stan.
What do you think? Are you excited to see Midge in Barbie?
READ MORE: The memes about Ryan Gosling playing Ken in Barbie are out of control
ATEEZ Spill Their Secrets In 'The Tower Of Truth' | PopBuzz Meets