People Are Boycotting Beauty & The Beast Over Its "Harmful" Gay Character And It's So Stupid
6 March 2017, 12:30 | Updated: 8 May 2017, 17:09
"Imagine boycotting Beauty & The Beast because of a gay character while being totally cool with a teenage girl falling in love with a buffalo..."
Beauty & The Beast made headlines this past week with the news that Disney's latest live-action movie will feature the company's first exclusively gay moment. In the film, sidekick LeFou (played by Josh Gad) finds himself feeling some type of way about Gaston. Without giving away a spoiler, his "gay moment" at the end of the film is very very subtle (maybe too subtle) but it's still great!
But, of course, when we take one step forward, the other half of society just HAS to take five steps back, doesn't it? A Christian-run cinema in Alabama, US has banned the movie from being played because of the gay references in the film.
Disney / via giphy.com
The wrote on their Facebook page: "When companies continually force their views on us we need to take a stand.
"If we can not take our 11 year old grand daughter and 8 year old grandson to see a movie we have no business watching it. If I can't sit through a movie with God or Jesus sitting by me then we have no business showing it."
They then added: "We are first and foremost Christians. We will not compromise on what the Bible teaches."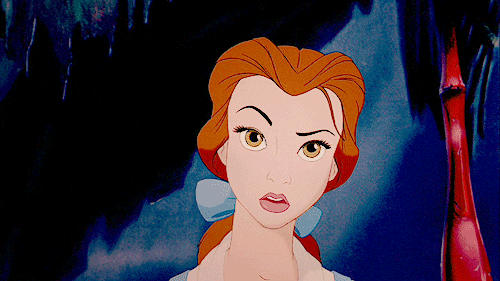 Disney / via giphy.com
Just in case everyone has forgotten the plot of Beauty & The Beast, 17 year old Belle LITERALLY falls in love with an actual animal who holds her hostage in a castle. So if you're ok with explaining low-key beastiality to your small children then you probably shouldn't be complaining about two human males, right? People across Twitter are pointing that pretty important point out.
imagine boycotting beauty & the beast because of a gay character while being totally cool with a teenage girl falling in love with a buffalo

— Tyler Oakley (@tyleroakley) March 5, 2017
Russia is also reportedly considering banning the film because it promotes a "gay agenda" and is against the country's "gap propaganda" laws. Russian's culture minister has reportedly said: "As soon as we get a copy of the film with relevant paperwork for distribution, we will consider it according to the law."
Many petitions calling for a complete boycott of Disney's "harmful sexual political agenda" have appeared across the internet too, with one from the pro-life/pro-family community in the US that features almost 100k signatures.
Lol ok then. Bye.
Disney / via giphy.com