Netflix fans shocked after finding out who directed the Beckham documentary
10 October 2023, 15:41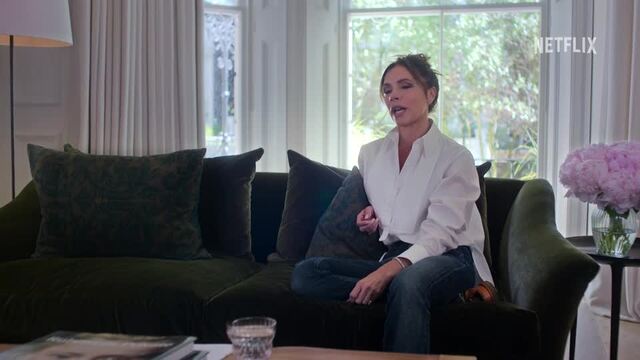 Victoria and David Beckham recall their first meeting
Fisher Stevens might have directed Beckham, but he's also an actor that you've probably seen on-screen before.
Recognise the voice of the interviewer in Netflix's new Beckham documentary? You aren't the only one. And after finding out who it is, viewers have been left pleasantly surprised.
The four-part David Beckham documentary has become a huge hit with critics and viewers alike. The doc follows the ups and downs of Beckham's rise to global football stardom and A-list celebrity status, and features an array of honest and open interviews with both David and Victoria Beckham, as well as his former teammates, friends and on-pitch adversaries.
After watching the doc, some fans are only now just finding out who directed and conducted the on-screen interviews. If the voice behind the camera sounds familiar to you, it's likely that you will have probably seen him in one of his acting roles before.
Beckham was actually directed and produced by actor Fisher Stevens.
Succession fans will recognise Fisher from his most recent role of Hugo Baker, Waystar Royco's Communications Executive, in the HBO series.
Elsewhere, he's also a regular fixture in Wes Anderson's films. Fisher has appeared in The Grand Budapest Hotel, Isle of Dogs, The French Dispatch, and 2023's Asteroid City.
If you don't recognise him from any of those projects then you might recognise him as Ben from the Short Circuit films, Lost, The Blacklist, The Good Fight, or maybe even Friends. Fisher played Roger way back in season 1, the psychiatrist that Phoebe dates before the group grow tired of him analysing everyone.
But beyond his acting, Fisher is a successful documentary maker. In fact, he won an Oscar in 2009 for producing the dolphin hunting documentary The Cove. He's since been nominated for several other documentaries over the last decade, including Bright Lights: Starring Carrie Fisher and Debbie Reynolds.
People are apparently absolutely gagged that "Hugo from Succession" is the man behind the Beckham documentary.
didn't realize this david beckham doc is directed by fisher stevens lol

— Brandy Jensen (@BrandyLJensen) October 8, 2023
Everyone's talking about the Beckham documentary, but no one has mentioned the fact that it's directed by that bloke from Short Circuit. You're welcome. pic.twitter.com/vw6EaqcXRE

— Laurence Brown (@LostInThePondUS) October 9, 2023
And there you have it – Fisher Stevens, actor and award-winning documentary maker!
Kylie Minogue vs. 'The Most Impossible Kylie Quiz' | PopBuzz Meets