Fans Think Bella Thorne Is Dating Blackbear And Everyone Is Absolutely Losing It
11 July 2017, 12:12 | Updated: 11 July 2017, 12:35
The internet is not happy.
It honestly never stops in the life of Bella Thorne, does it? And it seems that Blackbear is having a bit of a moment lately too. So when the two of them stepped out hand in hand after one of his shows in New York a few days ago (July 9), the pictures set the internet on FIRE.
Bella posted a snap of her and Blackbear, who was "disguised" in an full Marshmello outfit, on Twitter after the gig and well... people weren't happy.
Lil cutie b @iamblackbear pic.twitter.com/h1LYf0E31K

— bella thorne (@bellathorne) July 9, 2017
It's become a bit of a trend on the internet for people to start hurling insults and negative tweets toward Bella when she is spotted hanging out with another guy. And it seems as though the situation with Blackbear has escalated and now his fans are absolutely tearing into her online a little tooooooo much.
hey @bellathorne i told u like five times to stay away from blackbear pic.twitter.com/PBmej6tmhK

— mads (@chateaufools) July 9, 2017
THAT FUCKING BELLA THORNE IS HANGING W BLACKBEAR NO THX NOT TODAY SATAN https://t.co/HuTkf8AV20

— maddy (@fmlmaddy) July 9, 2017
listen, blackbear, bby, yous smart, yous kind, yous a beautiful ass bitch, but Bella Thorne is not the way to go. avoid at all costs. pic.twitter.com/edx8N9Of36

— Queen Headass™ (@bIuntbear) July 8, 2017
ok bella thorne and blackbear is something i do NOT condone. pic.twitter.com/tJvcAPk7kp

— dweeb (@carlieisagod) July 9, 2017
BLACKBEAR WHAT ARE YOU DOING WITH BELLA THORNE YOU ARE SO MUCH BETTER THAN THAT

— Eb Stan (@SOUTHSIDEMCCALL) July 10, 2017
Never one to let a few tweets bring down her day, Bella left a salty comment on Blackbear's Instagram snap too which probably riled the fans up even more.
Instagram
Whether you like her or not, you've got to give it to Bella... she always gives as good as she gets.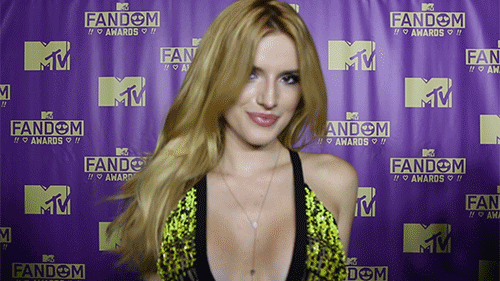 MTV
____ ____ ____ ____ ____
Listen to the #PopBuzzPodcast with Tom Holland and Zendaya right here or subscribe for free on iTunes to get new episodes sent straight to your phone every Friday.