Bella Thorne Just Opened Up About Her Difficult Disney Days And It's Heartbreaking
24 April 2017, 16:23 | Updated: 8 May 2017, 17:09
It was a lot of pressure for a 13 year old girl.
Queen of blue hair Bella Thorne is getting candid about her Disney past again and she's just revealed the heartbreaking reason why she even decided to audition for her iconic Disney role in the first place.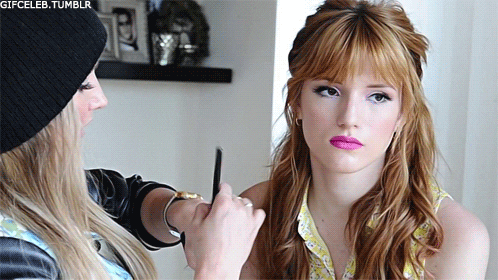 via giphy.com
It's not the first time Bella has been completely candid about her Disney past. Last year, in an interview with Nylon, she discussed how the company had allegedly made her put on a higher voice in interviews and told her how to act and what to say. And now she's spilling even more details about her start on the Disney Channel and it's genuinely a pretty sad story.
Appearing on MTV's Happy Sad Confused podcast, Bella revealed that she didn't actually want to audition for Shake It Up! at all. In fact, the only reason she went into the room was because her family needed the financial support.
"I didn't want to audition for Shake It Up!. I literally said in my audition, 'I don't sing. I don't dance. I'm basically tone deaf, and I'm not funny. So I don't know why I'm here.'' And everybody just started laughing. They all thought it was a joke."
via giphy.com
"Do you think I wanted to be a Disney girl? Did you think I wanted to do that? We were about to live physically on the street if I didn't have that role. We were living off Stouffer's coupons, and that's all we had to eat every day. That may not sound like a big deal to everybody, but when you're a single mom raising four kids with debt and you have nothing to your name, it's f***ing sh*tty."
That's a lot of pressure for a 13 year old girl, isn't it? Jesus.
She also goes on to discuss how her involvement with Disney and being typecast with the infamous 'Disney Girl' label almost derailed her entire career - something she's spoken about previously and something we've seen Miley Cyrus try and fight to shake off herself.
via giphy.com
Bella's come into her own now and she's done a pretty great job of shaking off that label; she's got a brand new show called Famous in Love and she's making a pretty f*cking great living thanks to the ol' social media game (she bought a house earlier this year based solely off the money she's made online) and to that, all we have to say is... YASSSSSS SIS!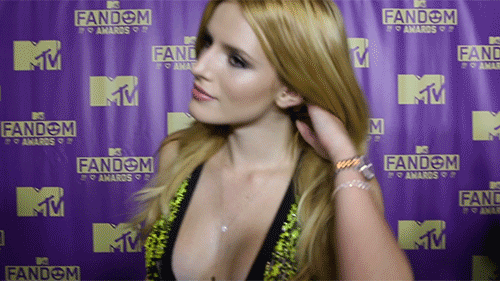 via giphy.com
____ ____ ____ ____ ____
Listen to the #PopBuzzPodcast with Secret Midnight Press' Ashley Dun & Jesse Cale and Carmen Carrera right here or subscribe for free on iTunes to get new episodes sent straight to your phone every Friday.