Bella Thorne Just Listed Her Ultimate Girl Crushes And They're Probably Yours Too
6 October 2017, 12:43
Although there's one obvious name missing...
Bella Thorne isn't exactly known for being the shy and retiring type. So when it comes to interviews, you can always expect her to speak her mind on anything and everything.
It shouldn't come as any surprise then that when the Famous In Love actress was asked about her current girl crushes that she didn't hold back. At all. Speaking to StyleCastor.com, Bella is asked which girls she's currently crushing on and Bella responded with a detailed list of who and why, and we're 100% here for all of them.
GIPHY
"Demi Lovato. That's an obvious one", Bella starts. "I love Demi. We're close. She's amazing, just such a beautiful person inside and out. Love everything she stands for. Kristen Stewart—I'm like, "Please." She's so hot. Oh. My. God. You put on those fucking Converse, girl. You put on that rock shirt, and you come to mommy. I literally love Kristen Stewart."
"Who else is super hot? Oh, Camila Cabello. I think she's so hot. I just saw her at a party the other night, but she was with a guy, so I wasn't gonna hit on her because she was with a date."
Kinda odd that Bella doesn't mention her supposed girlfriend, YouTuber Tana Mongeau, right? Perhaps the interview happened before things with Tana heated up. Or, maybe things were never that serious (especially if Bella's choice of shoes are anything to go by).
Elsewhere in the interview, Bella reveals the difficulties she has with dating girls in Hollywood, as many aren't publicly out.
"Some girls are just, like, "No, you can't [date me]" because a lot of girls are not out, especially if they're in the industry, which is most of the people that I know. Then they're, like, "Oh, no. We can't date. We can hook up." I'm like, "I don't hook up with people. I'm not gonna just waste my time here. I want a relationship—what are you doing?"
Awww Bella! Why don't you give Demi, Camila or Kristen a message and see if they're up for a date? They seem like nice girls, so we're sure they won't mess you around. Let us know how you get on bbz.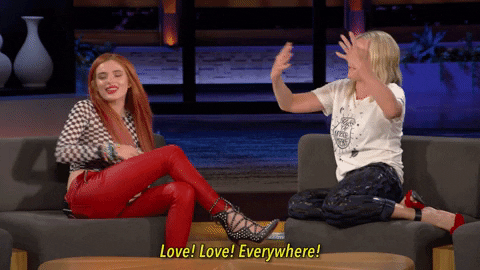 GIPHY