5 Things Benedict Cumberbatch Looks Like In The Zoolander 2 Trailer
19 November 2015, 12:06 | Updated: 8 May 2017, 17:09
That's Benedict... he's so hot right now.
The Zoolander 2 trailer dropped yesterday and Benedict Cumberbatch basically broke the internet.
He appears in the sequel to the 2001 masterpiece as a ~terrifyingly~ beautiful, gender fluid supermodel - the best in the world, in fact. And the news sent the Cumberbitches and Sherlockians into OVERDRIVE!
Of all things I expected to see Benedict Cumberbatch in, 2oolander was not one of them.

— Benedict Cumberbatch (@Cumberbitches) November 18, 2015
But here at PopBuzz HQ, we couldn't help but think he looked kinda familiar. Check out our top 5 lookalikes... The resemblances are UN. CANNY.
1) Morticia Addams' slightly experimental younger sister.
Cheekbones for DAAAAAAAYS! Gothic Sisters of the world, unite!
2) No Face from Spirited Away
Srsly Benedict, is that u?
3) Courteney Cox circa 2006... without eyebrows.
This is all getting a bit too much.
4) Kayako from The Grudge
The subject of all your nightmares. Sorry about it.
5) This majestic Otter wearing a deluxe lace front.
GLORIOUS!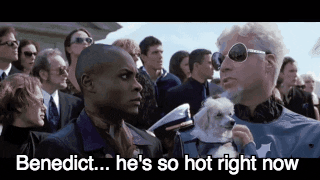 Decide for yourself and watch Benedict in all his supermodel glory in the new trailer here: