Cheryl Blossom Is Getting A Love Interest On "Riverdale" And It Might Not Be A Guy...
31 July 2017, 11:47 | Updated: 31 July 2017, 11:48
Will Cheryl come out in season two?
It's just over three months until Riverdale is back on our screens and we just can't cope. We know quite a bit about what's going to happen in the second season of Riverdale - Juggie's Serpent life, the return of Hiram Lodge... - but our very own Cheryl Blossom just dropped a bombshell that we were NOT expecting.
Over the SDCC weekend, Madelaine Petsch sat down to discuss what's going to happen to her iconic character in the second season of the show and boy, did she spill the tea! Madelaine revealed that Cheryl will FINALLY be getting her own love interest this season and when asked whether or not it will be a boy, she responded "Not necessarily, we will see..."
So who could it be? There's speculation online that Cheryl ~might~ be hooking up with the new Reggie but that theory has since been thrown out the window because it sounds like Josie has already got dibs on him.
If it's not Reggie and everyone else seems to be coupled up, then who could it be? Well, there's a huge conversation on Twitter brewing about the new character Toni Topaz and eeeeeeeveryone seems to think that she'll become Cheryl's new love interest. Needless to say, Choni are already being shipped.
i can't believe cheryl is gonna be with toni topaz and she's not trouble for bughead in the way we were thinking, i love no cheryl so much

— nat (@jugsbeanie) July 27, 2017
WAIT SO CHERYL AND TONI ARE FOR REAL GOING TO END UP TOGETHER I FUCKIMG GUESSED IT YESSS

— ananda loves SH (@anandadaily) July 27, 2017
God if riverdale doesn't give me Cheryl/Toni I will literally sue

— j (@BIossomJauregui) July 25, 2017
Even actress Vanessa Morgan, who will be playing Toni in season 2, has liked a few comments on Instagram hinting at the possible romance. Could it actually be? Savage Cheryl and the badass Toni?! Together? At last?
@VanessaMorgan liked this and yes, I'm shipping toni and cheryl pic.twitter.com/g4jYHkWbPI

— Elyse (@jarchiedaIe) July 27, 2017
There also seems to be a little hesitation from the fans over the pairing because Riverdale has been accused of queer-baiting in the past (that whole Betty and Veronica thing? Didn't go down well with LGBTQ+ viewers, tbh) but if anything does *blossom* between the two, let's hope Cheryl gets the badass coming out story she deserves.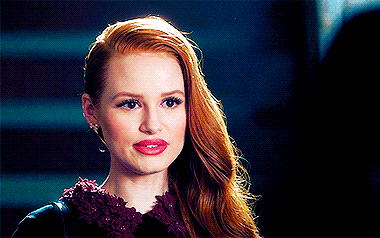 The CW