Chloë Grace Moretz's INSANE Clapback Against Bullying Deserves A Gold Medal
29 June 2016, 11:42 | Updated: 8 May 2017, 17:09
The actress just clapped back at online haters in the best way possible.
Kick Ass star Chloë Grace Moretz just went full Hit Girl on Twitter trolls, calling out the haters in an eloquent and brilliant speech yesterday (June 28th).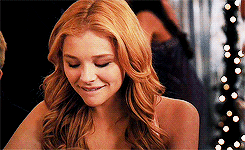 JOSEPHG.TUMBLR.COM
The actress clapped back at the "people hiding behind computer screens" over several tweets in support of those who are consistently bullied online.
Many celebrities have spoken out in recent months about the importance of respect on social media and Chloë's comments will encourage those suffering and, hopefully, make the idiots sending abuse think twice before they send that tweet.
Read Chloë's tweets in full below:
When will people hiding behind computer screens get tired of calling someone "fat" or "masculine" -

— Chloë Grace Moretz (@ChloeGMoretz) June 28, 2016
- does it make you feel good typing your hateful comments ? Does it fulfill you in some dark way? -

— Chloë Grace Moretz (@ChloeGMoretz) June 28, 2016
- sit back before you fire away commenting ignorant things and imagine the real HUMAN BEING you are commenting about

— Chloë Grace Moretz (@ChloeGMoretz) June 28, 2016
- he or she is a PERSON, with feelings and thoughts and a life that you are affecting so negatively

— Chloë Grace Moretz (@ChloeGMoretz) June 28, 2016
- I've spent my whole life in front of cameras growing up with miscellaneous people judging and critiquing every little thing about myself

— Chloë Grace Moretz (@ChloeGMoretz) June 28, 2016
- and it's time we all stop hiding behind keyboards pretending we know even the smallest thing about the people we judge

— Chloë Grace Moretz (@ChloeGMoretz) June 28, 2016
That's all - have a nice taco Tuesday guys

— Chloë Grace Moretz (@ChloeGMoretz) June 28, 2016