Cole Sprouse Just Revealed His Childhood Crush And It'll Make You Say "Same!"
16 March 2017, 14:16 | Updated: 8 May 2017, 17:09
Ahhh, young love...
Cole Sprouse - aka your new dark and twisty prince Jughead - sat down with the New York Post to have a little chat recently. He discussed his career so far, what things he'd take from the set of Riverdale when it ended and most importantly, he revealed who he once had a MASSIVE childhood crush on.
The CW / via giphy.com
Before he played Jughead, Cole Sprouse landed the role of Ben (Ross' son) on Friends in 2000 and played him for two years, appearing in only 8 episodes. But those 8 episodes were enough to have people recognise him on the street and start calling him "Ben" when they see him in public - which they still do to this day, according to Cole.
But that wasn't the ~juicy~ part of the interview. The juicy part was when Cole came clean about his childhood crush and we've never felt more on a wavelength with him than right now in this moment.
At just eight years old, Cole revealed that he was completely infatuated with a one Ms Jennifer Aniston. (Weren't we all, Cole? Weren't we all?)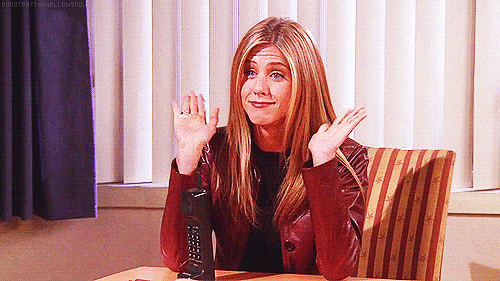 NBC / via giphy.com
"I had a really, really hard time working with Aniston because I was so in love with her. I was infatuated. I was speechless — I'd get all bubbly and forget my lines and completely blank. It was so difficult." Bless.
Now, I don't know about you lot but I'm pretty sure that EVERYONE who was alive and watching Friends back in the late 90s/early 00s had some sort of crush on Jennifer Aniston. Hair crush, girl crush, straight up CRUSH CRUSH. We've all been there and we totally get it.
Thankfully, Cole didn't have to play opposite her much. Lol, just kidding - almost ALL his scenes were with Jen An. Like this one below. And by the way, if that's what Cole looks like when he's shook then he might actually be a much better actor than we had previously thought.