Cole Sprouse Tweeted That He Is "Single" And People Are Losing Their Sh*t
3 October 2017, 11:57
Miss Piggy has SO much to answer for.
Last week, the plot twist to end all plot twists occurred on Twitter when Miss Piggy publicly asked Riverdale's Lili Reinhart for Cole Sprouse's phone number. Days passed by and no romantic Instagram posts were made, nor were the two spotted together in public but now it seems like the potential romance is cancelled.
Cole took to Twitter to jump on the #WhyImStillSingleIn4Words hashtag to express his disappointment in the tragic breakdown of communication between him and his newly betrothed, Miss Piggy.
#WhyImStillSingleIn4Words

Miss Piggy hasn't called.

— Cole M. Sprouse (@colesprouse) September 29, 2017
Fans started losing their absolute sh*t over the fact that Cole "publicly proclaimed" that he was single and immediately responded by posting comments about rumoured bae Lili Reinhart, but honestly guys, that's not the tea we should be focusing on.
LILI???

— nicole (@idecnicole) September 29, 2017
why you're NOT single in 3 words: Lili Pauline Reinhart pic.twitter.com/NQva9sLTYn

— sophia misses cami (@cherylandronnie) September 29, 2017
Um????????!!!!!!!!! pic.twitter.com/mbjIa53QWs

— Athena (@athenagana) September 30, 2017
single? is that some kinda of confirmation that u arent dating lili

— jiminie (@bitchySuga) September 29, 2017
The REAL tea is that the one romance that we had so recently hoped would have blossomed into the most powerful celebrity union of all time, may now officially be over before it even had the chance to begin.
Soon after Cole called Her Majesty out on Twitter, Miss Piggy replied with an equally salty clap back. She may act like she talks a big game but she does not walk the walk, it would seem.
#WhyImStillSingleIn4Words

Cole hasn't sent flowers. @colesprouse https://t.co/rC0ADOcTJB

— Miss Piggy (@MissPiggy) September 29, 2017
Messages of disappointment and disbelief from shippers soon flooded their respective @ replies urging Cole to make his move and not leave a lady hanging.
@lilireinhart pull through and give her his number

— fay (@lilispetals) September 29, 2017
YOU CAN CALL HER! Just make it happen. pic.twitter.com/pLzlhnNQmX

— Cole Sprouse Daily® (@colemsdaily) September 29, 2017
you guys are my otp

— h (@csjbcole) September 29, 2017
@colesprouse Send this woman some flowers already!!

— Marissa Burciaga (@BurciagaMarissa) September 29, 2017
@colesprouse pic.twitter.com/endF5IH2DX

— lisa (@_lisabellt_) September 30, 2017
Public feuding on Twitter... Is that the end of the brief yet iconic romance between Cole and Miss Piggy? Did Lili Reinhart's existence prove too much of a problem for Serpent boi and our favourite porcine Queen? That's a secret I'll never tell.
xoxo, Gossip Girl.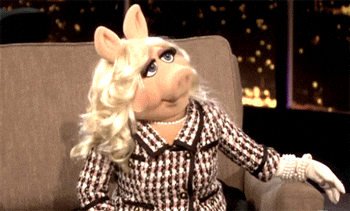 via giphy.com