Cole Sprouse Wanted This Song To Play During Jughead's "I'm Weird" Speech And It's Actually Genius
27 July 2017, 11:16 | Updated: 27 July 2017, 11:19
This is officially Jughead's song on "Riverdale"
Jughead Jones has always been a little bit of an "outsider" on the CW's Riverdale. His outsider status reached its apex when he delivered the now infamous "I'm a weirdo speech" that will forever hold a special place in Riverdale meme history.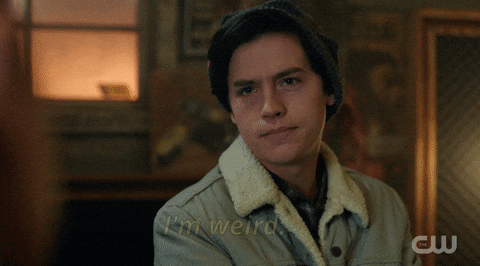 via CW/Riverdale
Recently, at San Diego Comic Con, Cole Sprouse was asked if there were any particular songs he would have incorporated into Riverdale. His answer?
"I wish "Creep" from Radiohead was playing over that narration in Episode 10 where I'm like "I'm a weirdo." Like, suddenly on some sort of disc in the background. That would've been nice."
It may be a bit on the nose, but there's no denying the fact that Jughead is the definite weirdo/creep of the crew. The scene could have used some levity to de-memify it and that could have been a job for Radiohead.
Now, who wants to ask Cole what song should have been playing during THIS scene. May I suggest Nelly's "Hot In Here" to kick things off?
via CW/Riverdale