Cole Sprouse Just DRAGGED The New Riverdale Poster And People Are Gagging
24 August 2017, 14:45 | Updated: 24 August 2017, 14:50
Honestly, what is he like?
Yesterday (Aug 23), the brand new Riverdale season two poster was unveiled and it looks ominous as f*ck. There they all are... the squad. Cheryl finally snagging that spot in the dead centre where she belongs and not on the outskirts. Josie looking bomb AF. Archie wondering when his next appointment with the chiropractor is...
Keep your friends close. Your enemies closer. #Riverdale returns Wednesday, October 11 at 8/7c only on The CW. pic.twitter.com/OoYgm8gUyV

— Riverdale (@CW_Riverdale) August 23, 2017
But while we were all freaking out about that broken 'Diner' sign that conveniently says 'DIE' and wondering who will get the inevitable chop this season, Cole Sprouse had a few savage thoughts of his own - that, tbh, he probably should have kept to himself.
In a now deleted tweet, Cole basically dragged the artist who put it together (even thought it looks fine????) and offered to tutor the poor unfortunate soul in the art of photoshop.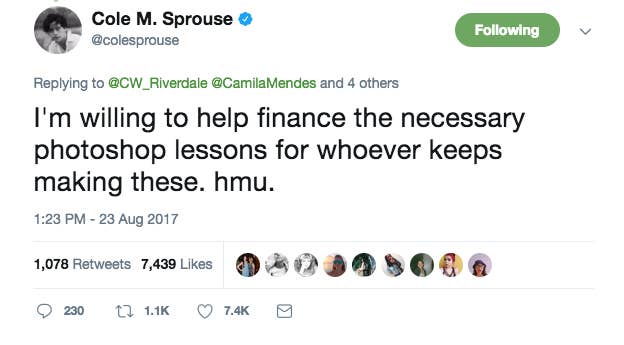 via Twitter
His sassy response split the fandom; some were absolutely GAGGING at his reply to the original tweet while others thought he went a bit too far in his critique, calling it "mean-spirited and unnecessary" toward the person who made it.
that person got burnt like Thornhill

— Emily stans Lili (@emilyylittlemix) August 23, 2017
Cole's facial expression while tweeting this pic.twitter.com/fKxTgyxF1f

— (@xApokalypse) August 23, 2017
Is this backlash because they didn't Photoshop the dark circles under your eyes? pic.twitter.com/UKvwlrcUI6

— Kota Kovic (@nottodaykota) August 23, 2017
Shade pic.twitter.com/hNuXfnfwDi

— Ashleeta (@Ashleeta) August 23, 2017
After deleting the original tweet, he tweeted this... 'cause he probably felt a lil' guilty over the savage read, no doubt.
me: better to be safe than sorry heh heh.

*is sorry anyway*

— Cole M. Sprouse (@colesprouse) August 23, 2017
It's not the first time Cole has dragged his own show. A few months ago, he called out the blatant (and we mean, hilariously blatant) product placement of a few Covergirl products in the show and was immediately told to delete the tweets.
via Twitter
Honestly, Cole... what are you like? Looking forward to your submissions for the key art of Season 3.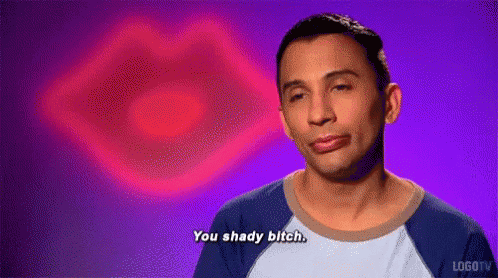 Logo TV