Cristina Yang Will Probably Return To "Grey's Anatomy" And OMFG
13 November 2017, 15:12 | Updated: 2 February 2018, 10:44
Is Sandra Oh coming back? FINALLY?!
Cristina Yang, oh how we miss you. We sort of had her back in the 300th episode of Grey's Anatomy last week (Nov 9) thanks to a look-a-like (and act-a-like) patient that came into the ER but it just wasn't the same. Will Sandra Oh ever return to Grey Sloan Memorial Hospital herself and put us out of our misery?
Well, if Kevin McKidd who plays her on-screen ex-husband Owen Hunt has anything to do with it - yes, yes she will.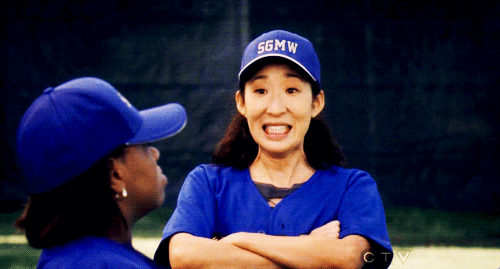 ABC
Speaking to Entertainment Tonight, he revealed that he still speaks to Oh "all the time," and apparently, she's been keeping up and spilling tea on what she thinks about Owen's current storylines in the show. *cough* Getting married to Amelia Shepherd. Not great. *cough*
"When my character got married to Amelia, she got kind of jealous and was like, 'No, that's not right!'" he revealed. He then said that when he asked Oh if she would come back to fix all of Owen's mistakes, Oh replied... "Well, maybe... maybe."
MAYBE?! SHOOK.
ABC
She's *considering* it. She hasn't ruled it out. She still stays in the loop with what's happening on the show. She didn't object to the idea. Somebody sedate me. NOW.
When asked if he thinks Oh would actually return, McKidd said: "I hope she will. I think it would be so much fun. It would open up so much again in the story and mix everything up. Owen, wherever he is in his life, would have incredible stories. She's just such an amazing actor. I still miss her to this day."
Same babes, same. We all do. And seeing as Owen is now single, bringing Cristina back into the fold would be a pretty interesting move.
There's absolutely no doubt in our minds that Cristina Yang will be back in Seattle before the show ends for good but we can't see it happening any time soon - mainly because Oh is busy doing other things... and she's said so herself. Shonda Rhimes recently said in an interview that Grey's will end when Ellen Pompeo (Meredith Grey, herself) is done with it and you can't expect the show to wrap up without a reunion between the two most iconic doctor BFFs in the world, can you?
While Shonda can't quite see the show reaching an impressive 600 episodes, she definitely thinks it'll surpass ER's 15 season run. Could Yang be back in time for a Season 15 shindig?
ABC
___ ___ ___ ___ ___
Haven't you heard? We've got a brand new TV SHOW on Twitter… Watch it LIVE on Thursday with Liam Payne at 5pm GMT right here! #PopBuzzPresents