Selling Sunset fans think Davina Potratz lied about her age and the receipts don't lie
17 August 2020, 12:15 | Updated: 24 November 2021, 21:27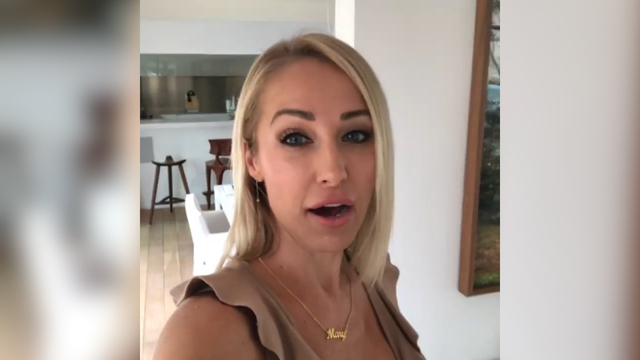 Selling Sunset's Mary gives tour of Orlando Bloom's $9m Hollywood home
How old is Davina Potratz? Fans are convinced that the Selling Sunset agent has lied about her age, and they've been digging up proof to back their theories.
We're all Selling Sunset hooked right now, and whether you're Team Chrishell or Team Christine, we're nothing short of invested in the lives of the agents.
While we rifle through the Instagram accounts of The Oppenheim Group's most treasured employees figuring out what season 4 has in store, fans have noticed something is a little off about one of them.
According to the show and the internet, Davina Portraz is only 30 years old. But while she may look youthful by our standards, fans say that she could be lying about her age. And they've brought the receipts too.
READ MORE: Selling Sunset's Chrishell Stause responds to Christine Quinn liking nasty tweet about her
In a truly well-thought-out Twitter investigation, user @RenayRich, did some digging and found Davina's old university year book...from 1998. If she was really 30 years old in 2019/20, she would have been 8 years old in the picture.
And well...it's not very convincing.
See for yourself:
Okay I had some time on my hands 😂 I couldn't believe Davina was 30 so did some googling and found her in a uni yearbook entry from 1998. Not sure how yearbooks work whether it's every year or for graduation but either way she's not 8 here #SellingSunsethttps://t.co/pVJ8yI4nYQ

— Renay (@RenayRich) August 16, 2020
Fans also pointed out that Davina's specific yearbook photo had 'jr' next to it, meaning that she was a college junior when it was taken.
If you're not familiar with the American school system, that would make her 20 years old - or 42 in 2020.
Given how long Davina has been in the business, it would also mean that if she was 30 now, she would have gotten her license at 16.
There's been no confirmation from Davina herself, but it would seem like Selling Sunset's fan base aren't taking to the idea that she could be a lot younger than they thought, particularly after her unforgiving fight with Chrishell in the final episode of season 3.
Davina has since spoken out about the hate she's received off the back of the season, and has even been bombarded with horrific death threats.
"I get pretty scary ones like, 'You deserve to get acid thrown in your face, you should cut your veins and should be put in a body bag'", she told Metro.
"I don't take it personally at all, but it is disheartening to see people are in such a dark place with themselves to send that to anyone. Clearly they've never met me, they don't know me."

Throughout the show, Davina has been known for her hard exterior, and particularly ruffled feathers at Christine's wedding, after an entire season of arguments and drama with the group.
Chrishell Stause was just learning of her divorce from actor husband Justin Hartley, and the season ended with the group turning their backs on Davina as she refused to support her co-worker and shadily added that there were "two sides to the story".
Chrishell then storms out of the ceremony, so it's safe to say we can expect a lot more drama next season - age-related or not. Watch this space.