Guess Which "Once Upon A Time" Fan Fave Is Coming Back From The Dead?!
23 February 2016, 10:52 | Updated: 8 May 2017, 17:09
You'll never BAE-leave it, dearie!
Before you say anything OUAT-ers… no, we're not talking about precious pirate bb Hook. We're talking about ANOTHER fan favourite who left the Enchanted Forest, Storybrooke and our hearts back a long long time ago.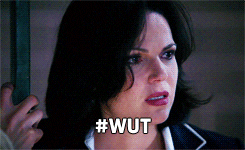 ABC / via giphy.com
As soon as we heard that Season 5B was set to kick off with a trip to the Underworld (HIYA HADES!) to save Hook, we've been thinking about the possibility of bumping into all those we've hated loved and lost. At first we thought of Graham because we totally needed some sort of closure over his untimely death *side-eyes Regina*. The second OUAT fave that crossed our mind was Neal and then we were like, that's way too good to be true and we've totally set sail on the Captain Swan ship now so it doesn't matter anyway.
But after running a mind boggling Blind Item in January, TV Line have officially confirmed that Neal is returning for the 100th episode.
IT'S NEAL, YOU GUYS. BAELFIRE IS COMING BACK. *SCREAMING*
ABC / via giphy.com
No doubt your cheeks are still stained with the tracks of your super salty tears that burned through those eyeballs back at the end of Season 3 - we're still super bitter about it ourselves, tbh.
So what can we expect from Baelfire when Season 5B kicks off on March 6? Confrontations with Rumple. AWKS. Problematic ship wars with Captain Swan. AWKS. And Henry… *crying*
For real, we'd literally HATE to be Emma right now.
ABC / via giphy.com