Deadpool 2: Everything We Know So Far
6 March 2017, 17:00 | Updated: 8 May 2017, 17:09
Now that the teaser film 'No Good Deed' has dropped, what next can we expect from the return of the merc with a mouth?
Deadpool 2, the much anticipated sequel to the uber-violent, wise cracking, meta masterpiece starring Ryan Reynolds, is currently in production with details beginning to leak out across the internet.
A short film entitled 'No Good Deed' played before US screenings of Logan, but this was said to be more of a stand-alone feature rather than an actual movie teaser.
So, while we wait impatiently for Wade Wilson's grand return, let's round up all we know so far about Deadpool's big comeback.
1) When's it released?
Shooting is scheduled to begin in June 2017 until September so, we would imagine a late summer 2018 release date looks most likely. But, as we saw with the first movie, schedules can change suddenly and swiftly so keep an eye out.
2) Who's involved?
The original's director Tim Miller left the sequel, citing "creative differences" with Ryan Reynolds. David Leitch was then announced as replacement, having previously co-directed the Keanu Reeves action epic John Wick.
Casting wise, all the original players look set to return while the current rumour for the role of Domino is Scandal star Kerry Washington which is, frankly, an inspired choice.
Then, of course, there's the small matter of Wolverine.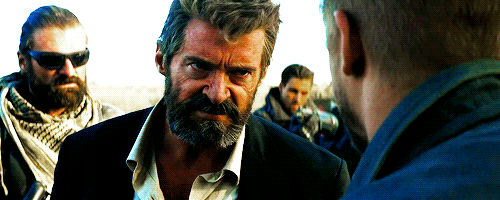 FOX
Reynolds has been very vocal about wanting Hugh Jackman to appear alongside him in a future film after their less than satisfactory team up in X Men Origins: Wolverine but the Aussie actor has made perfectly clear that Logan was his final bow as the character. But could he be tempted to put the claws back on for cameo? We hope so.
3) What's the plot?
No real details yet although the lovely people over at Screen Time have done a great job uncovering all the Easter Eggs featured in 'No Good Deed' that could hint at what's to come.
Interesting...
We'll update you with more details on Deadpool 2 as we get them.