Netflix Are Being Accused Of "White-Washing" Their Latest Film And People Are Fuming
23 March 2017, 15:03 | Updated: 8 May 2017, 17:09
"People keep saying Death Note is an "American remake" like the lead couldn't have been an Asian AMERICAN."
GOOD NEWS: There's a brand new version of Death Note that's about to hit your Netflix accounts in the summer. BAD NEWS: People are mad at it because they think it's been white-washed.
If you've never seen or heard of Death Note, it's an insanely popular manga series from Japan that follows Light Yagami, a guy who discovers a mysterious notebook that he later realises holds the power to kill anyone whose name is written in it. The manga is so popular - both in Japan and globally - that it has already spawned an anime series, four live-action Japanese films, a TV series and a musical.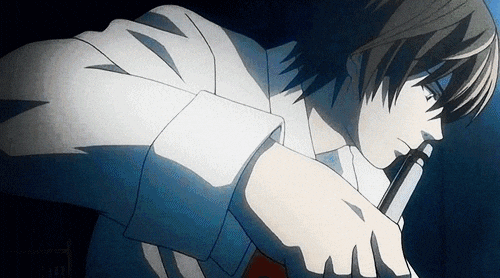 via giphy.com
The trailer for Netflix's adaptation dropped yesterday (March 22) but instead of being met with excitement, many fans of the manga called them out for white-washing the story.
This Death Note adaptation is a reminder that Hollywood will put time & effort into rewriting POC stories so that whiteness is centered

— Clara Mae (@ubeempress) March 22, 2017
.@netflix When none of the people who created the story are represented in the film

— Euna Park (@eunapark) March 22, 2017
You can watch the trailer here:
Shall we begin? #DeathNote pic.twitter.com/fEd12Gm32c

— Netflix US (@netflix) March 22, 2017
Netflix's version is a westernised adaptation of the series, set in Seattle instead of Tokyo and the character names have been changed to standard American surnames in place of Japanese surnames.
While there are other POC actors that have been cast in the role in the remake - Keith Stanfield and Paul Nakauchi will be playing the roles of L and Watari respectively - people are still mad that American actors of Asian descent were overlooked in place of white actors.
I love Death Note. A lot. But we can't keep letting Hollywood white wash Asian people out of their art. This is absurd.

— Travon Free (@Travon) March 23, 2017
People keep saying Death Note is an "American remake" like the lead couldn't have been an Asian AMERICAN.

— Travon Free (@Travon) March 23, 2017
"the death note movie is set in america that's why he's white" pic.twitter.com/Do7RDp9tsr

— yakov forgot his hat (@mldlysrprsng) March 23, 2017
People arguing that the whitewashing in #DeathNote is okay because "it's for an American audience." So do Japanese-Americans not exist? pic.twitter.com/B1uggLBV1Z

— Raffy Ermac (@byraffy) March 22, 2017
The creators of the Netflix adaptation have not yet released a statement regarding the backlash against the casting but did address fan's concerns in an interview with Collider a few months ago.
"Our vision for Death Note has always been to bring this captivating story to the screen for its longtime manga fans and to introduce the world to this dark and mysterious masterpiece. The talent and diversity represented in our cast, writing, and producing teams reflect our belief in staying true to the story's concept of moral relevance — a universal theme that knows no racial boundaries."
The conversation surrounding Death Note's "whitewashing" comes off the heels of various other controversies regarding the lack of POC actors - Asian, in particular - who are considered for lead roles in Hollywood films and remakes. The most recent case was the American remake of Ghost In The Shell which cast Scarlett Johansson in the role of Motoko Kusanagi.
So, what do you think? Is this another case of Hollywood white-washing or is it just a bit of an over reaction?
when you see the new death note trailer... #DEATHNOTE pic.twitter.com/YHedih8f6f

— Kirk Iverson (@kirkiversace) March 22, 2017