Depression Barbie Commercial memes go viral thanks to the Barbie movie
24 July 2023, 17:06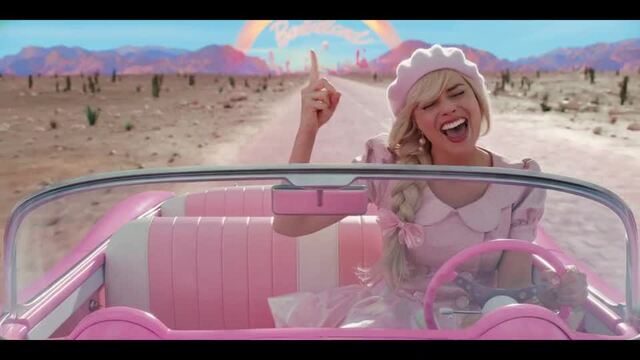 Watch the official Barbie trailer
The Depressed Barbie Commercial in the Barbie movie? That Pride & Prejudice call out? It's hitting a bit too close to home for some viewers.
When Euphoria's Maddy Perez uttered the immortal words, "Is this f***ing play about us?", she was in fact talking about Barbie's mental breakdown in the Barbie movie.
There's so many one-liners, gags and standout moments in the new film, it's almost impossible to single any one out as the best. But, a front-runner has now emerged, and her name is Depression Barbie.
One particular scene from the film, that happens right after Barbie's previously-teased emotional breakdown, has left viewers gagged, gooped and questioning their own state of mental wellbeing.
It is so specific, and so so accurate, people are wondering how the hell director and writer Greta Gerwig managed to hit the nail on the head so perfectly. Here's how viewers are reacting to that scene.
Is Depression Barbie a real Barbie?
WARNING: Major spoilers ahead for Barbie!
After Barbie returns from the Real World, she quickly finds out that the Kens have taken over Barbie Land – and they've brainwashed the other Barbies too. Barbie, feeling like a failure, then has a big ol' breakdown, and just completely shuts down as she lies on the floor motionless.
The scene then abruptly cuts to a Barbie commercial promoting the new 'Depression Barbie', what she does and all the 'amazing' features that she comes with. Needless to say, that scene is hitting a bit too close to home for some viewers.
She wears sweatpants all day and night? She spends 7 hours scrolling through her estranged best friend's engagement photos on Instagram? She's eating a family sized pack of Starburst? Huh!
The real kicker, though? She's going to binge-watch Pride & Prejudice for the seventh time, until she falls asleep.
The commercial even throws in a violently relatable, "Anxiety, panic attacks and OCD sold separately," for good measure.
Based on the tweets that have already gone viral, the scene has struck a chord with audience members, and they're letting Maddy from Euphoria do the talking.
I've never felt more seen than when they made Barbie depressed, repressed, and obsessed with Pride & Prejudice. This is real representation.

— fran (@galacticidiots) July 23, 2023
still thinking about that line in #Barbie when they said Depression Barbie watches the BBC Pride and Prejudice on repeat and then they showed THAT Colin Firth clip and I don't think I've felt more called out in my life before

— 🪡andrea (@a2mvcl) July 23, 2023
There are so many lines from #Barbie I'm still thinking about but one of the best and most brutally specific has to be when they said Depression Barbie was watching the BBC Pride and Prejudice on repeat because why did they have to cut THAT deep

— Zoë Rose Bryant (@ZoeRoseBryant) July 23, 2023
i'm obviously NOT depression barbie bc my pride and prejudice choice is the 2005 Matthew Macfadyen version NOT the bbc version

— jaelynn (@jaej__) July 22, 2023
The best line in the Barbie movie is "Anxiety ridden depressed Barbie, she comes with sweatpants, eats through a family sized bag of starburst until her jaw hurts and then watches the BBC's pride and prejudice." It comes out of no where and is the funniest bit of cinema ever.

— Jason (@rjason_42) July 22, 2023
its me hi im depression barbie

— si ange lang 'to (@angebanawa) July 23, 2023
the depression barbie (anxiety and panic attacks sold separatedly) hit a bit too close to home so i think i need it

— ev 🌻 (@evsdfg) July 21, 2023
Well! WELL! WELL! Greta Gerwig, you genius. It was rude! But genius. I respect it. Academy award!
Read more about Barbie here:
The Witcher Cast Interview Each Other | PopBuzz Meets