Disney called out after announcing Descendants 4 without Cameron Boyce
12 September 2022, 11:46 | Updated: 17 November 2022, 15:26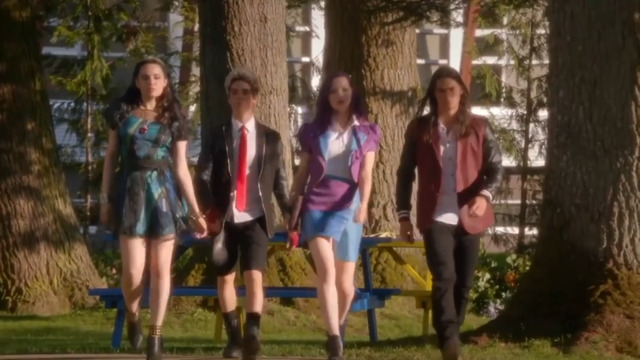 Watch Disney's Descendants trailer
Who is in the Descendants 4 cast? Dove Cameron has previously said that she would not film a Descendants movie without Cameron Boyce.
Disney are facing backlash after announcing a brand new Descendants film following the death of Cameron Boyce in 2019.
There's no denying that the Descendants movies are one of Disney's most beloved franchises. Ever since the first film came out in 2015, fans have adored the way in which Descendants, Descendants 2 and Descendants 3 imagine what the children of iconic fairytale villains would be like. They're essentially the Camp Rock and High School Musical of their generation.
On top of that, the movies have helped turn their cast into household names. All three films to date star Dove Cameron as Maleficent's daughter, Mal, Cameron Boyce as Cruella de Vil's son, Carlos, Booboo Stewart as Jafar's son, Jay, and Sofia Carson as the Evil Queen's daughter, Evie. China Anne McClain and Thomas Doherty also appear in the later films.
READ MORE: Dove Cameron reveals why she deleted all her old music after Boyfriend went viral
Disney have now announced that they are making Descendants 4, but it will be the first film without Cameron Boyce.
Will Dove Cameron be in Descendants 4?
The movie was confirmed at Disney's D23 Expo over the weekend. Dove, Sofia and Booboo have all decided not to return for the fourth film. However, China Anne McClain is back as Uma, the daughter of Ursula, and the film will focus on new characters Red, the daughter of the Queen of Hearts, and Chloe, the daughter of Cinderella, played by Kylie Cantrall and Dara Renée.
It's currently unclear if Cameron Boyce's character Carlos will be referenced in the film. Cameron passed away following an epileptic seizure shortly before Descendants 3 was scheduled to debut. He was just 20 years old at the time. Since then, a lot of the cast have stated that they would not film another Descendants movie without Cameron.
When asked by PopBuzz earlier this year if she'd do a Descendants reboot, Dove said: "I'm gonna say no, because I don't think it would be the same without the whole original cast. It would just be different now and also we did it. We told a full story. We completed it."
As a result, some fans are calling Disney for making a film following Cameron's death. One person tweeted: "The death of Cameron Boyce makes a Descendants 4 wrong on so many levels." Another added: "This has to be a joke.'
Ok so we are getting a Descendants 4 and I going to be honest I don't want it because it's not going to be the same without Cameron Boyce 😭🕊

— Amber 🍂 (@bigtimerush1999) September 11, 2022
They really want to continue the descendants story even though the main cast left mentioning it would never be the same without Cameron Boyce. I ain't giving that movie my precious time. Screw it.

— JessRandom (@JessRandomGirl) September 11, 2022
Disney announced now a fourth Descendants movie despite making it clear after the tragic passing of Cameron Boyce who died a day before the third's movie's release that they won't be anymore

I'm gonna check out the organisation his family created instead https://t.co/21jpJOOeBB pic.twitter.com/iOz7PU8RuJ

— Aylin (@ReineDuLeon) September 11, 2022
As it stands, Disney are yet to respond to the backlash. We shall update you if they do.
Read more Disney Channel news here:
Dove Cameron Picks Her Own Interview Questions | PopBuzz Meets