Pixar's new Up short film shows Carl going on his first date since Ellie's death
10 February 2023, 17:07 | Updated: 6 April 2023, 15:16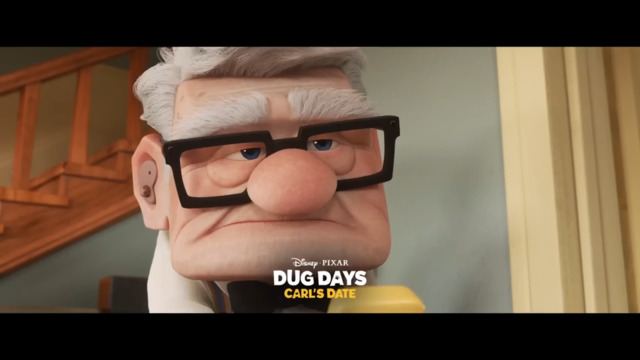 Disney+ teaser first look at Dug Days: Carl's Date
"I'm happy for my boy, Carl, but I'm not emotionally ready for him to move on."
The opening scene of Up that details the love story of Ellie and Carl is, without a doubt, one of the sweetest and saddest moments in Pixar history. Ever. It's not even up for debate.
In that very brief scene that spans their time together – from their wedding, moving into their house and their hilltop picnics to their devastating baby news, their dreams of adventure that got shelved and Ellie's eventual death – viewers see just how much Ellie and Carl loved each other.
Over the past few years, there's been calls from Pixar fans for a whole series that dives into Ellie and Carl's childhood adventures. Basically, fans just want to see more of them.
But Pixar has gone in the opposite direction with their latest short film that follows Carl as he goes on his first date since Ellie's death. The social media reaction to the whole thing? People are kinda mad about it!
Dug Days: Carl's Date, which is set to be released on Disney+, is part of the Dug Days animated shorts series. Each episode follows the backyard adventures of Dug, the dog from Up.
The Carl's Date episode follows Carl Fredricksen as he reluctantly agrees to go on a date with a lady friend. Carl, who was married to Ellie for decades before she died, has no idea how dating works these days. It'll be his first date since Ellie's death.
Unsure about the whole thing, Dug then steps in to calm Carl's pre-date jitters "and offer some tried-and-true tips for making friends".
The short was scheduled to be released on Disney+ on February 10th, but it was postponed and will now premiere in cinemas with Pixar's Elemental (2023) on June 16, 2023.
But that hasn't stopped fans from reacting to the synopsis of the episode... and it turns out people are very, very passionate about the idea of Carl going on a "date" with another woman.
"CARL WOULDN'T DO THIS HE LOVED THAT WOMAN MAN," one user wrote, referring to how much Carl loved Ellie. Weighing in on the idea of Carl going on a date with a "lady friend" after the death of his beloved wife, another added: "Bro No don't ruin his character".
On the flipside, others are rooting for Carl to be happy, and they're pointing out that Ellie wanted him to seek out a new adventure and not mourn her loss forever.
"Screw all of the qrts wanting Carl to live alone for the rest of his life. LET HIM LOVE AGAIN," someone tweeted. Another tweet simply said: "I'm happy for my boy, Carl, but I'm not emotionally ready for him to move on."
Baffled by the mixed response to the short, one tweet summed up the whole thing: "My god I would never have guessed so many people would be annoyed at fictional cartoon man having one date years after his wife died."
Lockwood & Co. Cast Interview Each Other | PopBuzz Meets