Sophie Turner's deranged cocaine scene in Do Revenge is Oscar worthy
21 September 2022, 15:11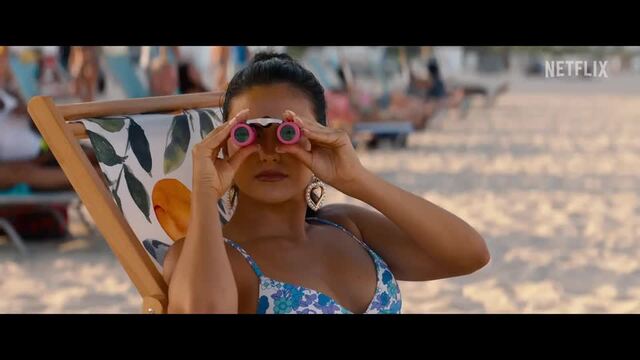 Watch Netflix's Do Revenge trailer
And the Academy Award for Best Supporting Actress goes to Sophie Turner for the role of Erica in Do Revenge.
The internet has a new obsession and it's Sophie Turner's scene-stealing performance in the new teen comedy Do Revenge.
Last week (Sep 16), Do Revenge debuted on Netflix to widespread acclaim. The star-studded film tells the story of two high school teens, Drea (Camila Mendes) and Eleanor (Maya Hawke), who team up to take revenge after both becoming social outcasts. Drea is the victim of a nude video leak and Eleanor is the victim of a false rumour that she forcibly kissed a girl.
Camila and Maya are both brilliant in their respective roles but it's Sophie Turner's cameo that's really breaking the internet.
READ MORE: Sophie Turner opens up about how negative Game of Thrones comments affected her mental health
Sophie might be best known for playing the serious roles of Sansa in Game of Thrones and Jean Grey in the X-Men films but Do Revenge sees her flex her comedy chops. Sophie plays the character of spoiled, rich, mean girl Erica. Erica attends the tennis camp that Drea works at, and, when Drea thinks that Erica leaked the nude video of Drea, Drea gets revenge.
To get revenge, Drea plants cocaine in Erica's belongings and, as a result, Erica is kicked out of the tennis camp and sent to rehab. The film shows Erica shouting: "This is insane! I don't do cocaine!". She then calls Drea an "insufferable c*nt" and says "I know you did this" before Erica is dragged out of the camp by force kicking and screaming.
The entire sequence is acted perfectly by Sophie and it's since gone viral on social media. One fan tweeted: "x-men dark phoenix who? game of thrones who? this is sophie turner's best performance". Another person wrote: "game of thrones would've been exponentially better had they let sophie turner do this."
We later find out in a second iconic Erica speech that she's lost her tennis scholarship to Stanford and actually become addicted to cocaine. Eleanor dryly tells Drea: "I wish you nothing but the worst, for the rest of your miserable, fucking existence." Incredible.
Something very special about Sophie Turner screaming "I DONT DO COCAINE" while Eliza Bennett cries that she "doesn't even know what cocaine looks like" in #DoRevenge pic.twitter.com/ucPqTCpo7P

— daemyra rights | eddie redmayne liked my scarf?!? (@jaskiersbard) September 16, 2022
Cast Sophie Turner in more comedies challenge!
Read more Sophie Turner news here:
Rina Sawayama Reacts To "Industry Plant" Rumour and Paints A Self-Portrait | PopBuzz Meets