Dove Cameron FINALLY Spoke About Those "Riverdale" Rumours And It Sounds… Promising
1 August 2017, 15:26 | Updated: 1 August 2017, 15:37
She still hasn't said no and Sabrina is probably gonna turn up in season 2... so what's the truth?
There's been PLENTY of speculation about the character of Sabrina making an appearance in the world of Riverdale and no one quite knows what's going on with it.
First there was confirmation that Sabrina would appear in the final episode of season one (she did by the way, it was just in the form of a comic book instead of a real character.) Then there was chatter that Disney Channel's very own Dove Cameron would be taking on the role after she started retweeting and favouriting fans tweets and news stories about it but she never ~really~ spoke about anything. Neither did the Archie Comics Twitter account who got in on the action by quote tweeting her tweet with a suspicious *thinking emoji*.
Until now. Dove has FINALLY spoken out about all those rumours and they sound preeeeetty promising to be honest.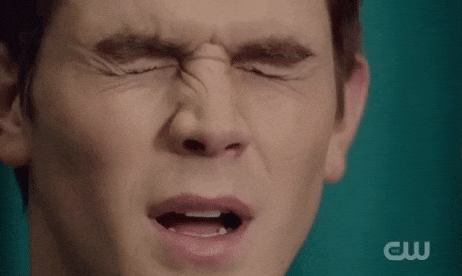 The CW
"I love Riverdale. I know the cast. They were shooting that actually as we were shooting Descendants 2... They were in the same hotel, so we would always like see them at the gym," she told Shine On Media.
Oh, so you guys are all up in Vancouver shooting at the same time huh? How quaint. How convenient. When asked if she was open to joining the cast, she replied: "Yeah, I'd definitely be open to it. I love the character Sabrina, obviously. I was a huge fan of the original Archie Comics, that was like all I read when I was little, so yeah, I'd be open to it. I don't want to let down any fans or anything like that, but if they wanted me, I would go."
An appearance from Sabrina is still very much up in the air with the Riverdale writers because it would alter the universe of the show so much. But with 22 episodes this season, there's definitely room to explore even more characters in the wider Archie universe.
When asked about her at San Diego Comic Con, show runner Roberto Aguirre-Sacasa said: "It's tricky. We've got this universe where it is dark and there is crime, but there's no supernatural. It does feel that if you're going to introduce that character, the rules of the world change. A part of that is figuring how that is actually going to work. I probably have actually said too much, but it's certainly something I aspire and hope to do in some way."
If he does manage to work it out, the good news is that Dove Cameron will literally be next door waiting for the phonecall. Perfect. Amazing. Sign her up. Wingardium leviosa. Let's GO.
The CW
____ ____ ____ ____ ____
Listen to the #PopBuzzPodcast with Louis Tomlinson right here or subscribe for free on iTunes to get new episodes sent straight to your phone every Friday.