Drake And Josh Just Reunited In A Vlog And It's Everything Your Childhood Ever Wanted
1 September 2017, 12:47
"Wedding looked like it sucked anyway..."
It's official! Drake and Josh have finally buried the beef and are back in each other's lives. The sun is shining, the crops are growing at a steady and healthy rate, my skin has never been clearer... what a time to be alive.
As you probably all saw, the boys both went to the MTV VMAs on Sunday (Aug 28) where they were pictured together for the first time since this whole wedding drama happened. They went live on Drake's Instagram together and then posted a cute picture to the 'Gram, restoring our childhoods in the process.
A few days later, Josh uploaded his vlog from the weekend which featured the pair bumping into each other at the VMAs... and later vlogged with Drake at a friend's house to reassure their fans that everything was completely 100% fine between them now... or WAS IT?!
Josh's friend and YouTuber David Dobrik also uploaded a vlog from the same day that featured both Drake and Josh together again but this time, things were a little... shall we say... different?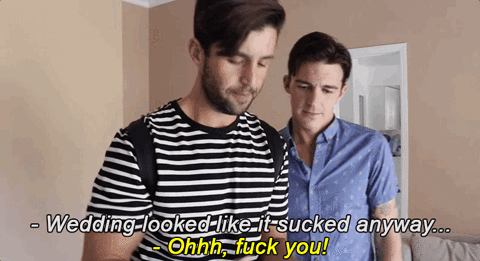 David Dobrik / youtube.com
JUST KIDDING, OF COURSE! The boys stopped by David's house, who happens to be a HUGE Drake & Josh fan, to surprise him (with Drake singing the god damn theme tune to his own show), joke about that awkward wedding situation everyone found themselves in (David WAS invited by the way...) and just have fun in general. Watch the full video below, oh and try to catch that savage off-camera Megan reference.