Drake and Josh Just REUNITED At The VMAs And Finally, Your Childhood Is Restored
28 August 2017, 01:22
Reunited and it feels... SO GOOD BROTHA!
This is NOT a drill! Drake Bell and Josh Peck both attended the MTV VMAs on Sunday and had the most emotional reunion of all time.
After that big ol' situation involving a wedding and the lack of a certain invite, things have been tense in the Drake and Josh stan camp. Thankfully, the whole thing was later swept under the carpet with no hard feelings left between the boys but the rest of us were left with the sad realisation that the former on-screen stepbrothers were no longer as close as they once used to be.
Cut to Sunday night when they were both spotted on the blue carpet in LA, ready to watch Katy Perry host the VMAs.
Here's Drake, serving all black everything.
Getty Images
And here's Josh who turned up around half an hour later.
Getty Images
After fans spotted them arrive separately, Twitter and Instagram went into overdrive wondering whether the pair will reunite on the carpet or during the show.
And well... THEY DID.
The pair later went LIVE on Drake's Instagram where they teamed up for a cute lil' message for all their fans: "This is real, this is happening. The reunion is official, we're back together. And be nice, by the way!"
Instagram
BROTHA!!!!!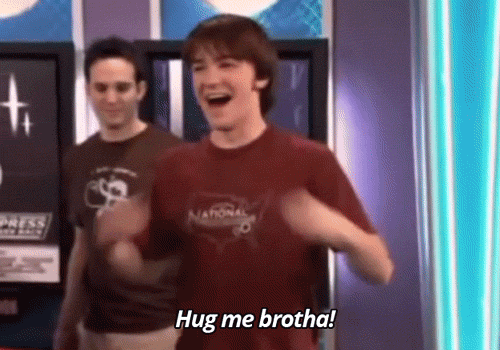 Nickelodeon