Drake Wasn't Invited To Josh's IRL Wedding And Now He's Sending Salty Tweets
19 June 2017, 10:23
Are your fave Nickelodeon brothers at war or is it all just for laughs?
Drake & Josh fans may want to divert their eyes as, sadly, your favourite brothers are fighting IRL.
Josh Peck recently got married to his longtime partner Paige O'Brien at a ceremony in Malibu with several impossibly attractive images uploaded to Instagram.
So damn sweet.
But, as you may have noticed, one guest is missing from the ceremony, Josh's one-time sitcom co-star Drake Bell having not been invited. And he was NOT happy about it, taking to Twitter for a series of pretty passive agressive messages:
Twitter, @DrakeBell
Yikes!
The actor also sent another (since deleted) tweet that said simply "I'll miss ya brotha".
Now, it could very well be that Drake is just joking around here and, either way, Josh can invite whoever he wants to his own damn wedding. Obviously. But, if the boys are fighting for real then our childhood just took a massive blow.
Come on boys, time to patch things up - it's gonna take some time to realign, but if you look inside you're sure to find, um, a resolution to your argument.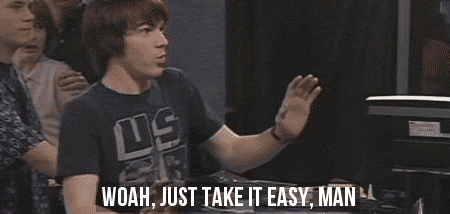 Nickleodeon, Giphy