Gay Dumbledore Is Going To Happen In Fantastic Beasts And We're 100% Here For It
11 November 2016, 12:00 | Updated: 19 November 2018, 12:56
He's here! He's queer! He's got nothing to fear because Voldemort doesn't exist yet!
As you may have read on PopBuzz a couple of days ago, it has been confirmed that Dumbledore will be appearing in the second instalment of the new Harry Potter films, Fantastic Beasts.
Set in 1920s New York, the films will follow the adventures of writer Newt Scamander in New York's secret community of witches and wizards, seventy years before Harry Potter reads his book in school.
While it has not been confirmed who will be playing the younger Dumbledore, it would appear that J.K. Rowling has kinda-not-really-but-most-probably confirmed that Dumbledore's sexuality will feature in the film.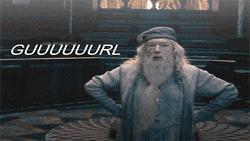 giphy
As reported by Teen Vogue, Rowling said to the press,"You will see Dumbledore as a younger man and quite a troubled man" in the second film, during a "formative period of his life. As far as his sexuality is concerned, watch this space."
You might remember that Dumbledore's true sexuality wasn't revealed by Rowling until 2007, a couple of months after Harry Potter and the Deathly Hallows was published, the last in the Potter series. Her revelation made news headlines at the time because most people didn't realise Dumbledore was gay, most probably because he didn't go round waving rainbow flags or listen to Madonna records.
But, as Rowling rightfully pointed out in 2015, in response to message on Twitter who said they didn't see Dumbledore as gay, "Maybe because gay people just look like... people?" . Amen to that, sister.
.@anakocovic21 Maybe because gay people just look like... people?

— J.K. Rowling (@jk_rowling) March 24, 2015

We can't wait for gay Dumbledore to arise. In fact, we'd like a set of films just about Dumbledore tbh. We'll send a request via owl to Rowling today, we'll get back to you with her response as soon as possible.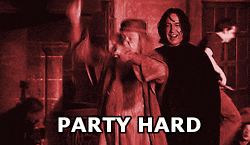 giphy