Guess Which Famous Wizard Is "Coming Back From The Dead" For Fantastic Beasts 2?
9 November 2016, 17:29 | Updated: 8 May 2017, 17:09
HINT: Earwax.
Bloody hell! Finally some good news for those of you who are still reeling from that traumatising plot twist at the end of Harry Potter and the Half Blood Prince.
Thanks to Fantastic Beasts and Where To Find Them, it looks like the iconic headmaster of Hogwarts School of Witchcraft and Wizardry is coming back to life! Well actually, seeing as this is a "prequel" (of sorts) that takes place BEFORE he died, he's not technically "coming back from the dead" is he? BUT STILL… the return of Albus Dumbledore has been ~confirmed~ by the director of Fantastic Beasts and we can't contain our joy.

Speaking to ScreenRant, David Yates who also directed the last four Harry Potter movies, revealed that Dumbledore will appear significantly in the second instalment of the Fantastic Beasts franchise and casting for the role is officially underway.
In the second movie, Dumbledore comes back. He's got a couple of good scenes with Newt… We're discussing who would play Dumbledore, any suggestions would be good. [Laughs]

David Yates, director
SPOILER: It's not going to Michael Gambon. They're looking to cast someone younger to transport us back in time and play opposite Johnny Depp's Gellert Grindelwald. (Yeah, that little nugget of info got confirmed too...) We always assumed Dumbledore was born looking like an old wise long-bearded Wizard, tbh. We literally can't and don't want to imagine him looking any younger.
With the return of Dumbledore and the involvement of Grindelwald, the good-turned-dark wizard that Dumbles was low-key in love with, we might also be getting a glimpse into all that backstory that JK Rowling revealed about Dumbledore's sexuality not too long ago. Hmmm, interesting.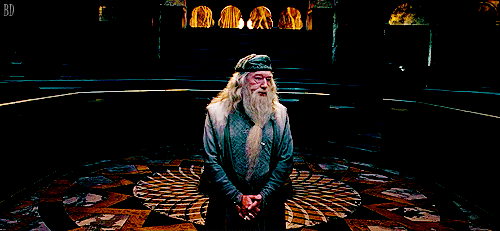 So there you have it. The wisest man in the Wizarding World will be alive and back in our lives very shortly. And with another four movies on the cards, there's probably an opportunity for a few more of your favourite Hogwarts professors to pop up in Wizarding America. Anyone for a young and sassy McGonagall? *raises both hands*
Who do you think should play a young Dumbledore? Leave your nominations in the comments and we'll be sure to send them via Owl Post to the casting director ASAP.