It's Official, This New 'Dunkirk' Trailer Is The Worst TV Ad Since Pepsi And Kendall
3 May 2017, 11:06 | Updated: 19 September 2017, 11:08
This TV spot for Christopher Nolan's, Harry Styles-starring war epic has got a lot of people pretty angry...
Christopher Nolan's much anticipated new movie Dunkirk will reach cinemas this July, telling the story of the famous World War II battle and starring the likes of Tom Hardy, Cillian Murphy and, in his acting debut, former One Direction star and acoustic-loving solo star Harry Styles.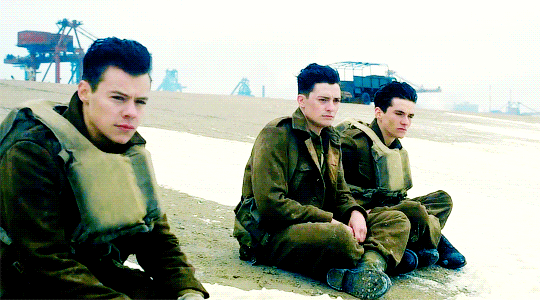 Warner Bros
Exciting times.
But, one new TV promo for the movie has raised a few eyebrows, acting as a tie-in for the NBA playoffs season and featuring a selection of professional basketball players comparing the stress of playing on the court to, um, actual warfare.
Yep, that happened.
Using sports players in promos like this is not uncommon but normally it is reserved for the likes of superhero movies - not historical dramas based on real events that resulted in the mass loss of life. We can't even begin to imagine what it was like that day on Dunkirk beach for the soldiers involved but we bet shooting hoops in Madison Square Garden is considerably way more fun!
First tweet reactions from that recent airing: not exactly what they are hoping for perception wise #Dunkirk #NBA pic.twitter.com/akZxjfJcZF

— Anton Volkov (@antovolk) April 30, 2017
Slash Film first spotted this tone deaf ad but, like them, we have to admit that this is less outrageous and horrifying and more just unbearably stupid - how many meetings did this idea go through? Did nobody stop and think "hey guys, maybe comparing the biggest conflict the world has ever known with a game of f*cking basketball is actually a terrible idea"? Nobody?!?
Is this guy your head of marketing?
Giphy
(Pretty sure that guy works for Pepsi too.)
Well, either way, we can't wait to see the movie and can at least take comfort in the fact that director Christopher Nolan almost certainly hates this TV ad just as much as we do.
Dunkirk hits cinemas July 21st.
____ ____ ____ ____ ____
Listen to the #PopBuzzPodcast with Chris Pratt and the rest of the Guardians Of The Galaxy Vol 2 cast right here or subscribe for free on iTunes to get new episodes sent straight to your phone every Friday.