Ellen Pompeo slammed for victim shaming Harvey Weinstein accusers in 2018 video
23 April 2020, 11:50 | Updated: 23 April 2020, 19:10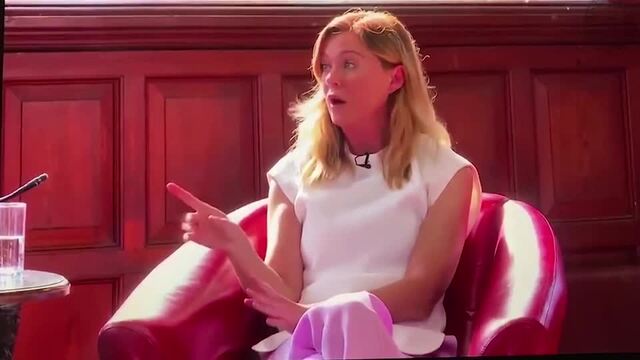 Ellen Pompeo called out for comments on sexual assault victims
The Grey's Anatomy star was discussing her experience with Harvey Weinsten when she made the controversial comments.
Ellen Pompeo is facing backlash after an interview resurfaced in which she says that it takes 'two to tango' in sexual assault.
In 2018, Ellen Pompeo did a Q&A with the Oxford Union about her career, Grey's Anatomy and the entertainment industry. In the talk, she spoke about the #MeToo movement and Harvey Weinstein. While her remarks went under the radar at the time, Ellen is now coming under fire for saying that victims of sexual assault are in part responsible for what happens to them.
READ MORE: People are losing it over Ellen Pompeo calling out a magazine for its lack of diversity
In the video, Ellen states r.e. sexual assault: "I think we bear some responsibility. Not all but it takes two to tango for sure."
Ellen adds: "That's not to blame the victims. That's just to say I did go into a room with Harvey Weinstein, I sat at a table with him, I had a two and a half hour conversation with him. He never said anything inappropriate to me. He never made any sort of physical advance to me. I wasn't in the room alone with him. I had been sent there by an agent in the middle of the day."
She continues to state: "I didn't think there was anything wrong. I wouldn't have gone into that room at night. He did nothing inappropriate toward me. Now had he, I would have picked up that glass and smashed him across the side of the face with it." In saying this, Ellen appears to contradict herself by implying that victims could act differently if and when assaulted.
Ellen finishes her speech saying: "So I mean, it's all what we're willing to tolerate in our self-esteem, and what are we going to put up with, and what are we going to compromise to be liked, to be loved, to be accepted? How bad do we want to be in show business?" Essentially, after saying she doesn't blame victims, she does and the internet is not impressed.
One person tweeted: "what the fuck is wrong with ellen pompeo. this is absolutely DISGUSTING!" Another added: "ellen pompeo has clearly never been sexually assaulted. she is victim blaming through this entire video & is acting like it's the victim's fault." People also began criticising Ellen Pompeo for past comments on reverse racism.
Every year Ellen Pompeo makes it more likely that I will never watch Gray's Anatomy.

The consistent fuck ups are not endearing. https://t.co/xxK1MYwbKb

— machine gun Kele (@kelechnekoff) April 22, 2020
ellen pompeo has clearly never been s*xually assaulted & this is a prime example of what it looks like to not have gone thru that. she is victims blaming thru this entire video & is acting like it's the victims fault & as if the victim wanted it. 'it takes two to tango' ok. https://t.co/aAMzhsdyq7

— 𝔣𝔞𝔦𝔱𝔥 | ellen pompeo hate acc (@charlizethvron) April 22, 2020
Given that Ellen has previously been vocally supportive of the #MeToo movement and Grey's Anatomy often covers sexual assault storylines with care and sensitivity, it's understandable that people are shocked by what the clip shows. It goes without saying that victims are in no way responsible for sexual assault.
Earlier today (April 23), Ellen responded to the backlash by quote tweeting a fan and writing:: "Its out of context & it's too serious a subject to talk about on a platform like this...people who have been abused or assaulted should seek guidance from a therapist..."
Hey girls sorry if video clips are upsetting!! Its out of context & it's too serious a subject to talk about on a platform like this...people who have been abused or assaulted should seek guidance from a therapist... this is not a healthy place for topics this serious. https://t.co/SLsgtKuIoN

— Ellen Pompeo (@EllenPompeo) April 23, 2020