Elliot Page opens up about his 'liberating' first shirtless scene in new movie
12 September 2023, 13:33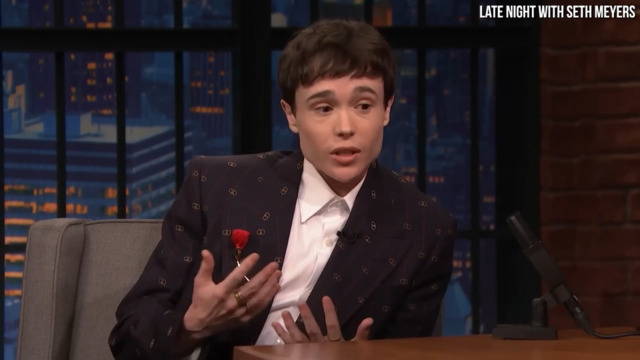 Elliot Page opens up about Viktor coming out as trans in The Umbrella Academy
"Showing this dude who's comfortable and present and waking up in his body, that means a lot to me."
Elliot Page has opened up about how "liberating" it felt to portray a trans man in his new movie, Close To You, which also includes his first on-screen shirtless scene following his gender-affirming surgery.
Of course, Elliot has been portraying Viktor Hargreeves on The Umbrella Academy in recent years, but Close To You is his first feature film role since 2017, and his first movie role since coming out as trans in 2020.
Close To You follows Sam (Page) as he reconnects with a former flame while travelling back to visit his family in Canada. Elliot co-produced and co-developed the film alongside director Dominic Savage, and a majority of it relies heavily on improvisation.
The movie opens with Elliot's character Sam getting out of bed, shirtless, and going about his morning as usual. Elliot has now spoken about the impact of that powerful scene, and how he felt while filming it.
Speaking to Entertainment Weekly at the 2023 Toronto International Film Festival, Elliot described how he felt shooting that scene on the day.
"Shooting on the day, I was getting out of bed and getting dressed, it was sort of clumsy, like, 'Oh, it would be great, he sleeps shirtless,'" he said. "In the moment when you're making this, you're making it from this instinctual place that I don't know how to describe. It just sort of happens, but at the same time, it just felt natural."
"Showing this dude who's comfortable and present and waking up in his body, that means a lot to me. I never thought I'd feel that way, so it's nice to get to act it," Elliot added.
Elliot added that the whole experience of playing a trans man who is dealing with relatable issues was "liberating", particular when it came to the improvised moments.
"The way I get to feel working now is far more embodied coming from that foundation, versus entering and not feeling that way. It's a huge shift," he said. "Doing something like this, complete improv, before, would've been close to impossible. The sensation of being able to do it and feel that present enough to do it, I just felt exhilarated every day. What a special film to do, first time [back on film], because it lets you feel embodied to the extreme."
There's no official release date for Close to You does just yet, but we will be seated when it's finally released in cinemas.
Olivia Rodrigo vs. 'The Most Impossible Olivia Rodrigo Quiz' | PopBuzz Meets