Here's where to buy Emily In Paris' phone case and outfits
5 October 2020, 19:27 | Updated: 11 January 2022, 16:50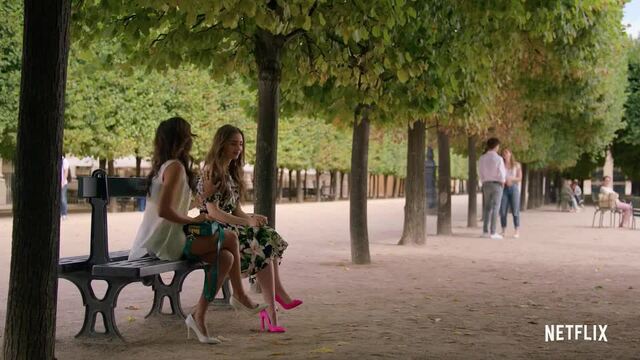 The official trailer for Emily in Paris on Netflix
Where is Emily In Paris' camera phone case from? From Emily's phone case to her floral puffer coat and yellow dress, shop the Emily In Paris wardrobe here.
Emily In Paris is BY FAR the chicest Netflix show to hit our screens this year. All those dresses? Statement pieces? The camera phone case? C'est magnifique!
If Emily Cooper's wardrobe feels familiar to you, that's because it was put together by the legendary Patricia Field who is responsible for all those iconic looks we know and love from Sex and the City and The Devil Wears Prada (to name a few). Costume designer Marylin Fitoussi and costume supervisor Florence Clamond also had a hand in building Emily's wardrobe for the show.
READ MORE: Emily In Paris season 2 - Everything we know so far
Emily In Paris was filmed back in 2019 so a lot of the pieces seen on screen will be from sold out collections, and will no longer be available to purchase online.
However, items like her camera phone case and some of the bags that are shown in the series are still online, with cheaper dupes available too. Ready to shop Emily Cooper's wardrobe? Here's where to get your hands on her lewks.
Where are Emily's outfits from in Emily In Paris?
Where to buy Emily In Paris' camera phone case
Who would have thought that Emily's vintage-looking camera phone case would be the star of the show?!
Her case, which has a strap attached to it so you can get the full vintage camera experience, appears to be from online brand Awsaccy, but it's no longer available on Amazon.
A similar one however is available to purchase right now at Casetify. If you're an iPhone user, there's a whole list of different sizes depending on what version you have. But if you're a Samsung user, you'll have to wait until they become available.
Prices range from £29-£40.
Where to buy Emily In Paris' yellow bandana print dress
One of the early stand out Emily outfits is this two-piece yellow bandana print set. The actual outfit is from Danish designer Ganni and is now out of stock.
Fans of this number will be able to find a similar skirt on sale at Oliver Bonas.
Where to buy Emily In Paris' off the shoulder floral dress
Florals? For Spring? Groundbreaking. Emily dons this Dolce & Gabbana floral number toward the beginning of the season but if you wanna get your hands on it in real life, it'll set you back around $1000. (It's available here at Luisaviaroma)
Where to buy Emily In Paris' fringe bag
Finally, a piece in Emily's wardrobe that we can afford! Emily's bag collection is stunning but one of her most eye catching pieces is this fringe bag, which is from ASOS.
Unfortunately, the original bag is now out of stock.
Where to buy Emily In Paris' black and white check suit
One of the most Parisian outfits that Emily wears in the show is a chic black and white check co-ord, with a red beret. Her actual jacket and shorts are from designer Veronica Beard.
Sadly, both the jacket and the shorts are now sold out.
There's a similar pink and white version available at ASOS right now.
Where to buy Emily In Paris' pink velour quilted jacket
Remember that gorgeous dark pink velour quilted jacket that Emily wears? That is from & Other Stories but it recently sold out in the sale.
If you're in the market for a jewel tone velour jacket in time for autumn, then there's a gorgey emerald green version available at Shein. It looks the same too, just a different colour!
Where to buy Emily In Paris' floral puffer jacket
Emily dons an Off-White floral puffer jacket at the end of the season, but if you wanna get your hands on the real version, it'll set you back $2000!
Similar styles can be found at ASOS and Ted Baker.