Will there be an Emily In Paris season 2? Here's what we know so far
5 October 2020, 11:20 | Updated: 11 January 2022, 16:51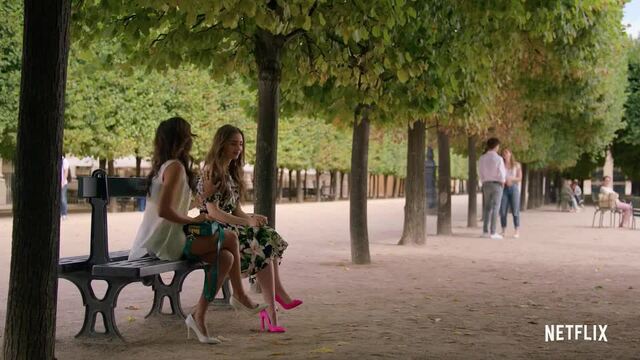 The official trailer for Emily in Paris on Netflix
Will there be another season of Emily In Paris on Netflix? Here's everything we know about a potential season 2.
Emily In Paris has finally arrived on Netflix which means we're all about to start living vicariously through the adventures of Lily Collins' Emily Cooper as she embarks on her glamorous new life in the iconic French city.
And, after binge-watching all 10 episodes, there's no doubt you'll find yourself asking the same question as us... Will there be a season 2?!
It's far too early to know whether or not we'll be heading back to Paris to continue on Emily's journey of marketing and romance. But while we wait for news, here's everything we know so far, including what might happen next.
READ MORE: Who is the Emily In Paris cast? Meet the actors here
Will there be an Emily In Paris season 2 on Netflix?
Emily In Paris season 2: Has it been renewed at Netflix?
Seeing as it's only just been released on the streamer, there's no news about a season 2 renewal just yet.
Netflix usually tend to reveal whether or not a show will be returning a few months after its release. Expect to hear news about Emily In Paris season 2 in the coming months. Keep your eyes on this page and we'll update you with any news.
Emily In Paris season 2 release date: When will it be released?
Seeing as there's no news on the show's renewal yet, it's impossible to predict when the potential second season will arrive on Netflix.
The first season of Emily In Paris was shot mostly on location in the French capital. Filming on season 2 might prove a little difficult due to coronavirus concerns and travel restrictions. If the show is renewed for a second season, don't expect it to start filming straight away.
Filming for the first season took place in August 2019, with additional scenes in Chicago being filmed in November 2019. The show was then released in October 2020.
WARNING: Spoilers ahead for Emily In Paris season 1!
Emily In Paris cast: Who will return?
Based on how the first season was left, it seems like all of the cast members will return as their respective characters.
Lily Collins will obviously be back in the beret as Emily Cooper. As will Lucas Bravo as Gabriel, Camille Razat as Camille and Philippine Leroy-Beaulieu as Sylvie.
Ashley Park, William Abadie, Bruno Gouery, Samuel Arnold and Kate Walsh will also likely return. Expect many more new characters to arrive, as Emily continues her new life in Paris.
What will happen in Emily In Paris season 2?
Well, we don't know much just yet but season one left us with a lot of unanswered questions and unresolved conflicts, so if season 2 goes ahead, we could get some pretty juicy storylines.
- Will Emily go with Mathieu to Saint Tropez?
- Does Camille know about Emily and Gabriel?
- What does Camille want to talk to Emily about?
- Will Emily and Gabriel get together for real?
- Will Sylvie and Antoine get back together?
So many questions!
Speaking to Metro, Lucas Bravo teased the drama that might ensue when Camille finds out about Emily and Gabriel. "Camille is really strong and she knows what she wants. We only got to see her nice side so I guess another side could explode when she realises what has happened... She definitely she has some ammunition… but it could go both ways. Things might go in a different direction."
Oop!