Enola Holmes 3: Will there be another movie?
4 November 2022, 12:43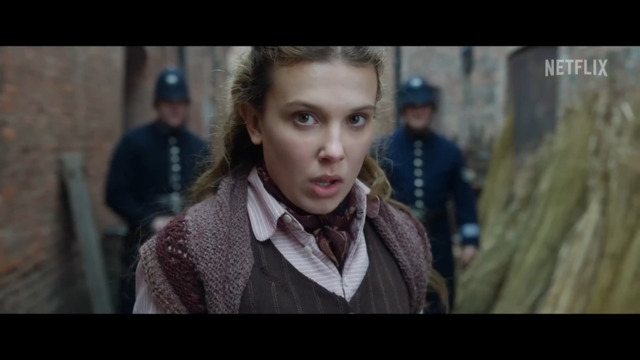 Watch the Enola Holmes 2 trailer
There's still plenty of material to adapt from Nancy Springer's novels if a third Enola Holmes film is given the green light.
Let's face the facts: Enola Holmes is undoubtedly one of Netflix's best film series – and if we had our way, we'd green-light another three movies right now. Millie Bobby Brown returns as the teenage detective for a second time in Enola Holmes 2, and after watching the sequel to the hit 2020 movie, fans are already dying to know if there'll be another outing for Enola.
In case you didn't know, the Enola Holmes films are based on the novel series by Nancy Springer. There are eight books in the series, all detailing a new mystery that Enola sets her mind on solving, with new characters being introduced along the way.
While it's unlikely that all eight of those books will be adapted for the film franchise, there is a possibility that a third film could make its way onto Netflix in the next few years.
Here's everything we know about the potential Enola Holmes 3 so far, including which cast members will return, and what might happen next.
Will there be an Enola Holmes 3?
Has Enola Holmes 3 been confirmed?
No official word has come from Netflix as to whether or not a third film will go ahead just yet. But given the popularity of the film series, and the success of the first movie, Enola Holmes 3 is a strong possibility. Enola Holmes 2 is also getting rave reviews from critics already which is promising for the future of the franchise.
Director Harry Bradbeer has also already expressed that the possibility of a third film is on the table, having previously shared an open invitation to Sam Claflin to return as Mycroft Holmes in the future. (He couldn't return for the sequel because of a scheduling clash.)
Enola Holmes 2 was announced 6 months after the release of Enola Holmes in September 2020, so fans might have a long wait ahead of them before a third film is confirmed. Watch this space!
When will Enola Holmes 3 be released?
Well, if Enola Holmes 3 goes ahead, it's likely that fans might not see a third film for quite some time.
There was a two-year gap between the release of Enola Holmes (September 2020) and Enola Holmes 2 (November 2022). On top of that, the cast are all booked and busy. Millie Bobby Brown, in particular, has a number of projects in production on top of filming the final season of Stranger Things in 2023.
We'll update this article with more information if/when Enola Holmes 3 is confirmed.
WARNING: SPOILERS AHEAD FOR ENOLA HOLMES 2 ENDING!
Enola Holmes 3 cast: Which characters will return?
Obbbviously, there wouldn't be an Enola Holmes 3 without Millie Bobby Brown herself (who is also a producer on the films) so she'll definitely be back for another sleuth.
On top of that, we'll also hopefully see the return of Sherlock (Henry Cavill), Tewkesbury (Louis Partridge), Eudoria Holmes (Helena Bonham Carter), Edith (Susan Wokoma) and Lestrade (Adeel Akhtar).
As previously mentioned, the door has been left open for Sam Claflin to return as Enola and Sherlock's brother Mycroft. But we'll have to wait and see if he makes a comeback, and how he'll fit into the storyline.
And now for the new characters that were revealed in Enola Holmes 2... Sharon Duncan-Brewster will likely return as the iconic villain Moriarty, as well as Himesh Patel who was introduced as Dr. John Watson. If a third film goes ahead, he'll no doubt be brought further into the fold by Enola and Sherlock.
What will happen in Enola Holmes 3?
There's eight books in Nancy Springer's Enola Holmes series, so there's plenty of material to draw from. But Enola Holmes 2 takes a huge step away from the narrative of the books, bringing characters back and adding new storylines into the mix. (Tewkesbury only ever appeared in the first novel, so that's already a huge difference between the book and film series.)
Enola Holmes 3 will likely deviate from the books further, so it's unclear if the plot will follow from any specific mysteries in the novels. But just like the first and second films, it will could borrow a few moments from The Case of the Bizarre Bouquets (that's the third book in the Enola series) to form a fresh story for the teenage detective.
And based off the Enola Holmes 2's ending? We'll probably see Enola and Sherlock team up against Moriarty, who escaped from prison. Oh, and get ready for more Watson, too.
Drag Race UK's Le Fil Reveals RuPaul's Controversial Snatch Game Idea | Drag Race Yearbook