Evan Peters Is Playing FIVE Characters On "AHS: Cult" And They're All Creepy AF
29 August 2017, 12:07 | Updated: 6 November 2017, 10:25
Sarah Paulson is SHOOK.
Remember last year, when American Horror Story: Roanoke aired and we had to wait like, 5 episodes for Evan Peters to actually show his face? Only for him to die five minutes later... Then he showed up again in the next episode as someone else... AND DIED AGAIN. Very rude and very disrespectful.
This year on AHS: Cult it doesn't sound like we're going to have to suffer through that same problem. As we all know, Evan is playing Kai Anderson, a Trump supporter and apparent leader (or some other high-ranking member) of a murderous clown cult. But, that's not the only character he'll be portraying on screen this season...
Evan will be playing FIVE different characters on this season of AHS and they're each as insane as the next.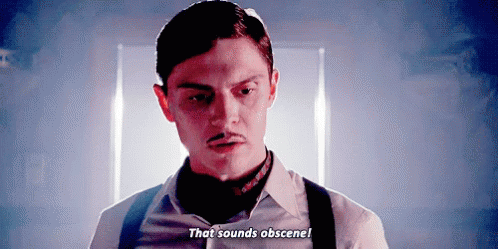 FX
Alongside Kai, Evan will be portraying four other infamous cult leaders, presumably through flashbacks. He'll be playing Charles Manson (the leader of the Manson Family cult), David Koresh (the leader of a religious sect called the Brand Davidians), Jim Jones (the leader of the Peoples Temple and responsible for the mass suicide of over 900 men, women and children in Jonestown) and Andy Warhol (who wasn't a cult leader but was shot by a "radical feminist".)
FX
According to FX CEO John Landgraf, this season will focus on how "cults of personalities" can form by playing on people's vulnerabilities and fears in times of turmoil and divided societies.
"It's not about Trump, it's not about Clinton. It's about somebody with the wherewithal to put their finger up to the wind and see that that's what's happening and using that to rise up and form power. And use people's vulnerabilities about how they're feeling afraid… and they feel like the world is on fire."
So, basically... it's not about politics but it kind of IS about Trump? Whatever, we'll take it. Evan Peters take the wheel.
FX