OMG! Did Evan Peters Just Secretly Reveal His Character In "AHS: Roanoke"?
27 September 2016, 11:36 | Updated: 6 November 2017, 10:35
WHERE IS HE?!
It's been two weeks. Two weeks and two episodes without an appearance from Evan Peters in latest season of "American Horror Story". You know what that equates to? At time of writing, it's been 12 days, 288 hours and approximately 17,000 minutes. What did we do to deserve this kind of trickery?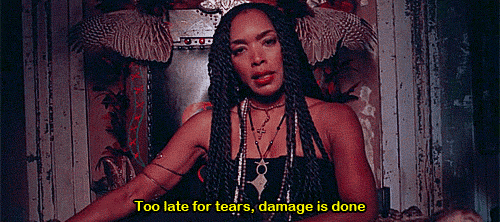 FX / via giphy.com
Anyway, Evan's absence has driven fans into overdrive, speculating on who or what he could be playing this season. Might he be part of the documentary set up? Is he part of the weird colonial squad from the forest? NOBODY KNOWS!
But thanks to one of his latest Instagram posts, we're starting to get the feeling that Evan is trying to drop subtle hints about the identity of his character.
Last week - more specifically, Brangelina Tuesday as it will now be known on PopBuzz - Evan posted this picture of a ceramic pig with a caption that made absolutely ZERO sense when relating to the image. "But why are you getting hyped over a ceramic pig?", I hear you cry.
Well... remember this guy from the last two episodes?
FX
Here he is again lurkin' behind Angela Bassett... #SHOOK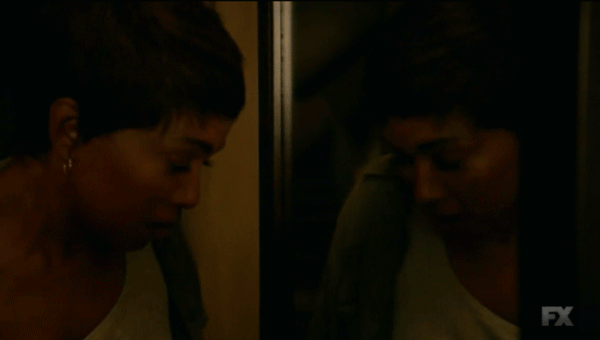 FX / via vanityfair.com
No one truly knows the identity of Season six's mysterious 'Pig Man' yet so what if Evan's weird AF Instagram post is hinting toward the REAL identity of the mysterious figure? Or what if he's just thrown a juicy red herring into the mix to keep us all on our toes? Oh god, we can't keep up.
Everyone is now low-key convinced that it's him though.
#AHS6 I think Evan Peters is the guy in the pig head that we keep seeing, the one from the video in the first episode. He would do that.

— Jessica Becker (@CelithaGaming) September 22, 2016
y'all I'm terrified that Evan Peters is the pig man tell me I'm wrong #AHS6

— Taylor (@housewifeswag) September 22, 2016
If Evan Peters is the pig man I will die #ahs #AHSFX

— Yoncé (@Amy_Says_Relax) September 22, 2016
plot twist: they duped us all and evan peters is the man with the pig head. #AHSRoanoke

— haley (@yerawizardhaley) September 22, 2016
Someone just said Evan Peters is probably the guy with that ugly ass pig mask smh I stg if they don't show his face this season pic.twitter.com/tjSWgyFRBW

— talaya (@POCstyles) September 22, 2016
REVEAL YOURSELF, EVAN!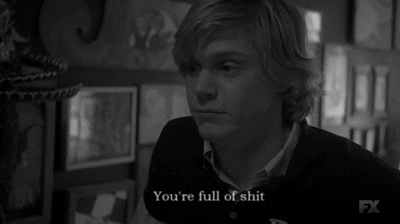 FX / via giphy.com