Dahmer victim's mother calls out Evan Peters' Golden Globes win
12 January 2023, 12:08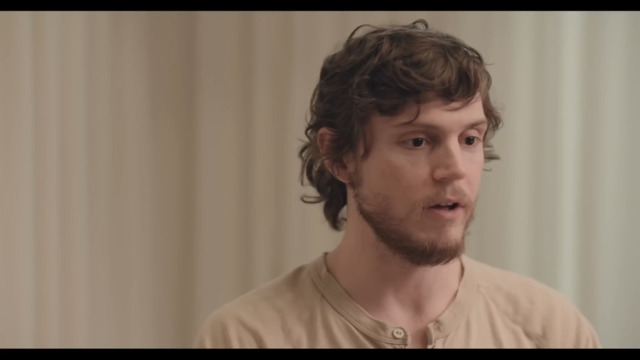 Evan Peters opens up about playing Jeffrey Dahmer
Shirley Hughes, mother of Tony Hughes who is portrayed in the series, says the win "adds to the grief for the families of the people Dahmer killed."
In case you missed it, Evan Peters picked up his very first Golden Globe yesterday for his performance as serial killer Jeffrey Dahmer in Netflix's juggernaut series Dahmer – Monster: The Jeffrey Dahmer Story.
But despite how popular the show has been, a handful of family members of Dahmer's victims have slammed the whole thing. From Errol Lindsey's sister Rita Isbell, who called Netflix 'greedy' and 'money hungry' to Tony Hughes' mother Shirley who questioned how they could use their names without asking, several real-life people who are depicted in the series have spoken out.
And now, in response to Evan's Golden Globe win, Shirley Hughes has called out the Golden Globes in an exclusive interview with TMZ.
TMZ write that Shirley says "Evan should have used his acceptance speech to mention the families who are still suffering from Dahmer's crimes, or to say Hollywood should put an end to telling stories about killers and glorifying them."
At the end of his speech, which he kept fairly short, Evan said: "I want to thank everyone out there who watched this show. It was a difficult one to make, a difficult one to watch, but I sincerely hope some good came out of it."
TMZ reports that Shirley does not believe anything good will come from the series being awarded. "She says it just adds to the grief for the families of the people Dahmer killed, replaying the tragedy over and over," the outlet wrote.
Shirley went on to add: "There's a lot of sick people around the world, and people winning acting roles from playing killers keeps the obsession going and this makes sick people thrive on the fame."
Shirley also reportedly questioned why Evan took the role in the first place, and added: "It's a shame that people can take our tragedy and make money. The victims never saw a cent. We go through these emotions every day."
Back in October 2022, Shirley spoke out about the Netflix series and condemned the whole thing.
Tony Hughes, who was deaf and non-verbal, is featured prominently in the Dahmer's sixth episode. The episode presents a series of dramatised events that show Dahmer and Tony growing closer, the majority of which have been heavily criticised by viewers for romanticising their relationship.
Dahmer murdered Tony, who was just 31 years old.
Shirley herself is also portrayed the episode and her devastating victim statement is re-enacted later in the series. But in an earlier interview with the Guardian, Shirley said the depiction of Tony and Dahmer's relationship "didn't happen like that."
"I don't see how they can do that," Shirley said. "I don't see how they can use our names and put stuff out like that out there."
Ryan Murphy later responded to the backlash and criticism surrounding the series and its real-life counterparts. In an interview with The New York Times, he asked: "What are the rules now? Should we never do a movie about a tyrant?"
Read more about Dahmer here:
Glass Onion Cast Take On A Chaotic Mystery Interview | PopBuzz Meets