Evan Peters Has Dyed His Hair Blue For "American Horror Story" And Everyone Is Freaking Out
30 May 2017, 10:44 | Updated: 6 November 2017, 10:31
AHS: Red, white and BLUE HAIRED EVAN PETERS!?
Ladies and Gentlemen, I have gathered you all here today to talk about our Lord and Saviour Evan Peters and his hair. As you know, American Horror Story season seven is just around the corner and Ryan Murphy has just set up an Instagram account to tease us about it. He uploaded a picture of some blue hair a few weeks ago that everyone assumed to be Evan Peters and now... the conspiracy has come true.
Evan Peters has had literally every hair colour under the sun over the past six seasons of American Horror Story. He has been a blonde (twice).
FX
He has been a brunette (twice).
FX
He's been a very very dark brown, some may even say ~black~.
FX
And of course, he's been a glorious redhead. (Such a versatile actor.)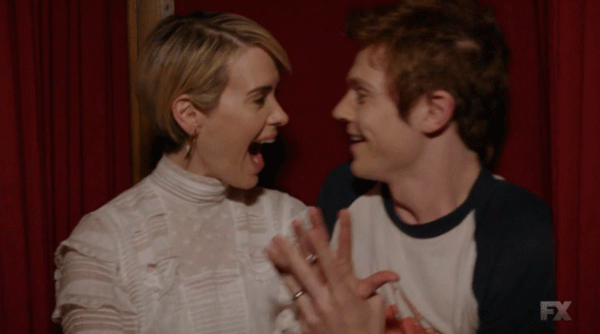 FX
So when Ryan Murphy shared THIS photo of someone's blue hair and captioned it "AHS: Red, white and blue clue", it sent everyone into a state of Evan Peters-themed panic.
IS THAT EVAN?!
Instagram
And now, a few weeks after uploading that teaser snap, it's been confirmed that Evan Peters WILL be rocking blue hair for the seventh season of American Horror Story.
•MYSTERY SOLVED: Evan Peters character has blue hair #AHS7 #AHS pic.twitter.com/ih0w8d0RYj

— AHS NEWS (@ahsnews_feed) May 27, 2017
Where were you when Evan Peters invented the blue Man Bun?
evan peters on the set of the new season of american horror story pic.twitter.com/prvvvRz5WK

— AmericanHorrorStory (@ltsEvanPeters) May 29, 2017
Evan is not the only cast member to have dyed their hair for their role in the seventh season of AHS either; Billie Lourd recently went full witchy white for the gig which leaves only the red slot to be filled in Murphy's 'Red, White and Blue' clue.
Ginger Sarah Paulson? Our bodies are ready.
FX
____ ____ ____ ____ ____
Listen to the #PopBuzzPodcast with Hey Violet right here or subscribe for free on iTunes to get new episodes sent straight to your phone every Friday.