Evan Peters watched a chilling Jeffrey Dahmer interview to prepare for the role
29 September 2022, 11:56 | Updated: 29 September 2022, 18:01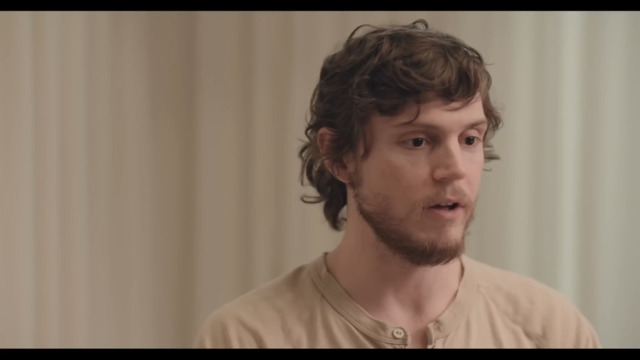 Evan Peters opens up about playing Jeffrey Dahmer
Evan focused on the infamous Jeffrey Dahmer interview with Stone Phillips in order to portray the killer.
While Netflix's DAHMER - Monster: The Jeffrey Dahmer Story has been criticised by viewers and the family members of the men who were killed by Dahmer, Evan Peters has been praised for his chilling portrayal of the killer.
The American Horror Story actor has played several fictional killers in the past on the FX horror series, but taking on the responsibility of portraying a real life figure who was responsible for the brutal and devastating deaths of 17 young men and boys is a whole different challenge.
Evan has now explained how he prepared for the role, and what he watched in order to portray Dahmer in a way that was authentic, but also respectful to the victims of his horrific crimes.
READ MORE: People are calling out viewers for romanticising Evan Peters' Jeffrey Dahmer
In a featurette for Netflix, Evan explained that he didn't actually know much about Dahmer before taking on the role, and based a lot of his performance on one particular interview that Ryan Murphy suggested he watch: Dahmer's 1994 interview with reporter Stone Phillips.
"I sort of started with blank slate with Dahmer," Evan said. "I only had the image of the hazmat suits and the blue vat coming out of the building, which I didn't even know was an apartment complex."
"Ryan sent me the scripts and then called and said, 'Dahmer is interesting in that he is almost regretful and has guilt and sort of confusion about what went on," Evan added. "He doesn't really have the charming, mischievous smile. He's docile, aloof and almost disassociated from what he did."
"I immediately went to YouTube and watched the Stone Phillips interview. So I watched that and proceeded to read biographies and I was able to read the police report and his confession," he continued.
Jeffrey Dahmer Original Stone Philips Interview = Dahmers Last Interview (2K HD)
In the Stone Phillips interview, Dahmer talks about his childhood, his obsession with dead animals and what drove his killing spree. He also speaks about his murders with an alarming calmness.
"I found on YouTube some audio of what sounds like a psychologist interviewing him, or even a detective, where he's sort of relaying what he went through, and the way that he's speaking is very candid and very normal," Evan added.
"It was so jaw-dropping that it all really happened. It felt important to be respectful to the victims and to the victims' families to try to tell the story as authentically as we could."
READ MORE: Jeffrey Dahmer survivors: Here's what happened to Ron Flowers and the men who survived Dahmer
Evan previously explained that portraying Dahmer was one of the hardest things he's ever had to do in his career so far.
"I was very scared about all of the things that Dahmer did, and diving into that and trying to commit to [playing this character] was absolutely going to be one of the hardest things I've ever had to do in my life because I wanted it to be very authentic." Evan told Netflix. "But in order to do that, I was going to have to go to really dark places and stay there for an extended period of time."
"I have to say that the crew was instrumental in keeping me on the guard rails, I cannot thank them enough and I could not have done any of this role with them...It was a challenge to try to have this person who was seemingly so normal but underneath all of it, had this entire world that he was keeping secret from everybody."
Read more about Netflix's DAHMER here:
Drag Race UK's Just May Claps Back At Danny Beard's Shady Remarks | Drag Race Yearbook